Calls for Adidas Management Trainee Program application 2021/2022 | Eligible and Interested applicants should submit their application now before the closing date.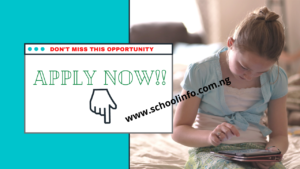 The  application form, requirements, eligibility, application guidelines, application deadline, how to apply, closing date, and other opportunities links for Nigerians is published here on Schoolinfo.com.ng as well as on the official application portal/website.
Application Instruction:
Don't forget that the Adidas Management Trainee application is totally free of charge.
Don't send anyone money for this opportunity.
Beware of Fraudsters!!!!
Subscribe to our notification list with your email to receive the Latest Opportunities Update.
Details of Adidas Management Trainee.
A degree does not mean that your learning journey has ended. Progression, improvement and curiosity keep us growing both as a company and as individuals. That's why we created the Future Leaders Program which provides the foundations for a challenging job in one of the fastest moving industries. What makes this program unique is that adidas has recognised the need to employ and grow ambitious, driven and passionate people of color (POC) in the sporting retail industry. We have created this program to elevate and grow POC in their careers to support our country and company's objectives to ensure we are more diverse. Our Future Leaders will have the opportunity to connect with our consumers and drive diversity of thinking within our organisation.
If you meet the criteria, in this one-and-a-half-year program, you will max your creative and analytic potential and have fun while doing so. Please note that this is an employment equity position.
– BRAND MARKETING
– SALES & CUSTOMER SERVICE
– ECOM & DIGITAL
– DIRECT-TO-CONSUMER & RETAIL
You will be based at our HQ in Cape Town, South Africa, and you will embark on a New Manager certified course, in partnership with the Graduate School of Business, whilst working at the best sports company in the world. You will have a personal coach, a mentor, a line manager and HR to support you. You will also spend time in our stores and with our Leadership team completing various workshops and learning experiences to ensure you are embedded in our three stripes.
You will fulfil a fulltime role within the selected department based on your skills and experience, where you will make an impact on the business and your performance will be measured accordingly. You will also be assigned a group project which allows individuals to demonstrate their teamwork and innovative thinking skills.
With adidas, your career path has unlimited possibility. Our Future Leaders Program offer the chance to kickstart your career without borders. There is no guarantee of a permanent placement at the end of the program, however, should you bring your best, we will try our best to ensure you stay within the adidas family within South Africa, or globally.
Requisite education and experience/minimum qualifications:
• 4+ year university degree or equivalent professional experience
• Experience: 12 months+ is advantageous
• Submit a creative motivation outlining why you feel you are a future Adidas leader
• Include a link to your LinkedIn profile in your CV if you have one
KEY RESPONSIBILITIES
The successful candidate will assume placement within the marketing department where specific functional responsibilities will be designated during the programme. Broadly these will encompass;
• Be a champion of consumer centricity- with an insatiable curiosity to deeply understand local sentiments and trends in the market pertaining to adidas and the broader category
• Seek to synthesize global strategy with localised resonance to drive the most compelling product offering in the market.
• Leverage the marketing mix to deliver company sales, profitability and share aspirations
• Ensure the optimal marketing mix* of; Product ,  Pricing (CTC), Promotion (Brand Activation + SPOMA ) and Place (Omni)  *exact areas of focus subject to placement
• Track performance- constantly aiming to evolve and optimise with agility.
• Strive to pioneer digital, technological capabilities for the brand locally.
• Seek to partner and establish collaborative relationships with key accounts and own channels.
KEY RELATIONSHIPS
• Cluster Marketing functions – CTC, Brand, SPOMA Omni, and MOPS
• Athletes / brand partners
• Market Marketing functions
• Channel Teams- WHS, DTC and eCom
• Supply chain
• Finance
KNOWLEDGE, SKILLS AND ABILITIES
• Practical experience an advantage (preferably in a creative environment)
• Embodies adidas' core behaviors summarized in "3 Cs": Creativity, Confidence & Collaboration
• An entrepreneurial mindset who push boundaries
• Structured, organized and process orientated
• Attention to detail as this has curtail impact on the business
• Ability to work within a team and high-pressure environment
• Broad and deep theoretical understanding of channel operations
• Passionate about sports and an energetic team player
• Advanced user of MS Office suite of products
• Leadership and influencing skills
• Strong analytical skills, creative problem solving and strong customer focus and mindset
• Fluent in English and excellent communication skills
Applications are currently open and will close on Sunday, 21 February 2021.Click on the links below to apply:
• Brand Management trainee
• Digital Marketing Management trainee
• Retail Merchandise Management trainee
• Sales Management trainee
For More Information:
Visit the Official Webpage of the Adidas Management Trainee Program
However, if you have any feelings regarding the Adidas Management Trainee, Please kindly drop A COMMENT below and we will respond to it as soon as possible.
BE SOCIAL BY SHARING THIS POST WITH OTHERS!
CONNECT WITH US: Like our Facebook Page, Follow Us On Twitter, AND also Subscribe to Our Feed. Stayed Blessed!
Tags: Adidas Management Trainee, Adidas Management Trainee Program