Job Vacancy Application at Building Construction Supervisor at Presco Plc Ongoing | How to Apply Online.
The Building Construction Supervisor at Presco Plc recruitment application form, requirements, eligibility, available positions, qualifications needed, application guidelines, application deadline-closing date, and other job updates in Nigeria are published here on Schoolinfo.com.ng for free.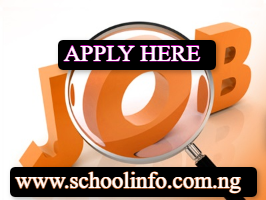 Building Construction Supervisor at Presco Plc Job Vacancies
NOTE:
Don't forget that Building Construction Supervisor at Presco Plc recruitment is totally free of charge.
Don't send anyone money for this recruitment opportunity.
Beware of Fraudsters!!!!
Subscribe to our notification list with your email to receive the Latest Jobs Update.
Details of Building Construction Supervisor at Presco Plc Job Vacancy Position & How to Apply.
Presco is a fully integrated agro-industrial establishment with oil palm plantations, palm oil mill, palm kernel crushing plant, and vegetable oil refining and fractionation plant. It also has an olein and stearin packaging plant and a biogas plant to treat its palm oil mill effluent. It is the first of its kind in West Africa
Presco specializes in the cultivation of oil palm and in the extraction, refining, and fractionation of crude palm oil into finished products. Presco supplies specialty fats and oils of outstanding quality to customer specifications and assures a reliability of supply of its products year-round. This is made possible by the integrated nature of the company's production process. Presco is the Nigerian market leader for specialty fats and oils.
We are recruiting to fill the position below:
Job Title: Building Construction Supervisor
Location: Nigeria
Department / Section: General Service / Building
Job Purpose
Responsible for managing and supervising all aspects of a construction project, including planning, scheduling, budgeting, quality control, and safety.
They work closely with project teams, subcontractors, and stakeholders to ensure that construction projects are completed successfully, on time, and within budget.
Key Responsibilities
Project Planning and Scheduling:
Collaborate with architects, engineers, and project managers to develop project plans, schedules, and budgets.
Create construction timelines, milestones, and deadlines to ensure timely project completion.
Supervision and Management:
Oversee and direct on-site construction activities, including subcontractor coordination, material procurement, and labour management.
Ensure that all work is performed according to approved plans and specifications.
Quality Control:
Implement and enforce quality control measures to maintain construction standards and meet or exceed client expectations.
Conduct regular inspections and quality checks at various stages of construction.
Safety Compliance:
Promote and enforce strict safety standards and practices at the construction site.
Conduct safety meetings, inspections, and audits to identify and mitigate potential hazards.
Budget and Cost Management:
Monitor project budgets, track expenses, and control costs to ensure adherence to financial plans.
Identify cost-saving opportunities and work to optimize project profitability.
Subcontractor and Vendor Coordination:
Select, hire, and manage subcontractors and suppliers, ensuring they meet project requirements and deadlines.
Negotiate contracts, evaluate performance, and resolve disputes as needed.
Documentation and Reporting:
Maintain accurate project documentation, including daily reports, progress reports, change orders, and as-built drawings.
Provide regular progress updates and reports to project stakeholders.
Regulatory Compliance:
Ensure compliance with all local, state, and federal building codes, regulations, and permits.
Obtain necessary permits and approvals for construction activities.
Team Leadership:
Lead and motivate construction teams, including foremen, laborers, and subcontractors, to achieve project goals.
Provide guidance, training, and performance evaluations for on-site personnel.
Additional Responsibilities:
Any other responsibility that may be assigned from time to time by General Service/Civil work Manager
Job Specification
Bachelor's Degree / HND in Construction Management, Civil Engineering, or any related field.
Additional Qualification:
Several years of experience in construction supervision or management.
Strong knowledge of construction methods, materials, and safety practices.
Excellent project management skills, including budgeting and scheduling.
Strong leadership, communication, and problem-solving abilities.
Proficiency in construction management software and tools.
Relevant certifications (e.g., Certified Construction Manager, OSHA certification) may be preferred or required.
Basic Skill:
Strong leadership, communication, and problem-solving abilities.
Ability to work at construction sites, which may involve exposure to outdoor conditions, noise, and physical demands such as standing, walking, and climbing.
However, if you have any Feelings regarding the Building Construction Supervisor at Presco Plc Job Recruitment, Please kindly DROP A COMMENT below and we will respond to it as soon as possible.
Please help others by sharing this post on any social media.
CONNECT WITH US: Like our Facebook Page, Follow Us On Twitter, AND also Subscribe to Our Feed. Stayed Blessed!
Tags: Building Construction Supervisor at Presco Plc Job Vacancy