Calls for CIVICUS Youth Action Team application 2021/2022 | Eligible and Interested applicants should submit their application now before the closing date.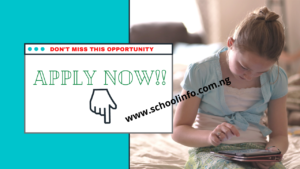 The Calling Changemakers to join the CIVICUS Youth Action Team 2021 application form, requirements, eligibility, application guidelines, application deadline, how to apply, closing date, and other opportunities links for Nigerians is published here on Schoolinfo.com.ng as well as on the official application portal/website.
Application Instruction:
Don't forget that the CIVICUS Youth application is totally free of charge.
Don't send anyone money for this opportunity.
Beware of Fraudsters!!!!
Subscribe to our notification list with your email to receive the Latest Opportunities Update.
Details of CIVICUS Youth Action Team.
Apply to join the CIVICUS Youth Action Team 2021. The CIVICUS Youth Action Team is a group of members who work for youth to be meaningfully represented and engaged in all of the alliance's structures, governance, strategies, and activities.
The Youth Action Team champions youth engagement and civic space. Institutionally, they interface with the CIVICUS Board on specific strategic questions, and provide advice and guidance to the Secretariat on any suggested youth programming or proposals that should be considered CIVICUS priorities.
Benefits
Being recognized as part of an international community with some of the most inspiring young activists in the world.
Have your work featured on CIVICUS platforms.
Receive support from CIVICUS Youth team to develop your leadership skills and be ready to influence decision-making at global civil society networks.
Improve the work you do in your local community through the incorporation of diverse global perspectives.
Obtain access to different networks of support and organizations that can nurture your work.
Develop ideas into projects that can have long-term positive effects in other young people.
Attend the CIVICUS Youth Assembly.
Be invited as a speaker in virtual global seminars and events related to civic space, democracy and human rights.
Increase your team building skills and intercultural communication through a customized program.
Achieving concrete results like the development of the 'Resourcing Youth-led Groups' playbook or the agendas of the CIVICUS Youth Assemblies. You define how far you want to go. The sky's the limit.
Eligibility
Applicant must be aged between 18 – 30 years of age at the time of selection into the Team.
Being a member(s) of youth-led or youth-serving organisations, groups, collectives, networks or movements that is advancing social, environmental, political and/or economic justice.
Affiliated with youth national and/or regional civil society networks.
For communication purposes, candidates must have basic oral and written skills in English as the YAT meetings are currently conducted in this language. Selected candidates will be given support to take part in meetings and be able to express themselves.
Being able to work remotely, ensure internet access, and be reasonably proficient in worldwide communication technologies (e-mails, Skype, Zoom, Whatsapp, social media).
Be available and accessible to attend conference calls with the team and CIVICUS representatives and be avail themselves for Team activities at least 8 to 10 hours per month.
Selection Criteria
Demonstrates experience and passion to mobilise networks and causes using effective communication, storytelling and data. Writing and creating content is your biggest talent – great campaigner!
Demonstrates experience and curiosity to connect with individuals and organisations at the national and regional level and connects diverse topics to mobilise chains of support. Building relations and negotiating is your biggest talent. – great networker and resource mobiliser!
Demonstrates good understanding and experience of strategic planning, vision setting and project management. Setting up processes and systems are your biggest talent – great organiser!
Demonstrates experience and knowledge for community or team building following principles of listening, honest feedback and positive affirmations – great leader!
Demonstrates talent and passion for new ways of behaving, norms, actions, love for creative arts and imagination – great artivist!
Demonstrates experience in research projects and curiosity for learning more about the state of civil society in different parts of the world, mainly, what are the experiences of young activists currently – great researcher!
Fighting for justice and social inclusion is the reason why you wake up in the mornings.
Loves taking initiative, interact with new people, search for answers to difficult questions and asks critical questions.
Demonstrate a commitment to CIVICUS principles and values and respect the Alliance code of conduct.
For more information, visit CIVICUS Youth Action Team.
However, if you have any feelings regarding the CIVICUS Youth, Please kindly drop A COMMENT below and we will respond to it as soon as possible.
BE SOCIAL BY SHARING THIS POST WITH OTHERS!
CONNECT WITH US: Like our Facebook Page, Follow Us On Twitter, AND also Subscribe to Our Feed. Stayed Blessed!
Tags: Calling Changemakers to join the CIVICUS Youth Action Team 2021/2023, CIVICUS Youth Action Team