Calls for Digital Fellowship application 2021/2022 | Eligible and Interested applicants should submit their application now before the closing date.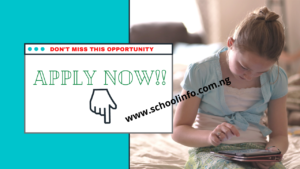 The Digital Fellowship Program application form, requirements, eligibility, application guidelines, application deadline, how to apply, closing date, and other opportunities links for Nigerians is published here on Schoolinfo.com.ng as well as on the official application portal/website.
Application Instruction:
Don't forget that the Digital Fellowship application is totally free of charge.
Don't send anyone money for this opportunity.
Beware of Fraudsters!!!!
Subscribe to our notification list with your email to receive the Latest Opportunities Update.
Details of Digital Fellowship.
Applications are open for Democracy Now! Digital Fellowship Program 2021. Democracy Now! fellowships are full-time, one-year work placements that pay a livable wage and include fully paid medical and dental benefits. The fellowships provide support and mentorship to underrepresented early-career journalists and digital media professionals, including BIPOC, people with disabilities and gender-nonconforming people.
Democracy Now! is committed to building greater diversity in newsrooms and training the next generation of journalists. Fellows will develop skills and gain experience in a daily live TV news environment, and have the opportunity to bring their unique voices, perspectives and experiences into the newsroom. All fellowships take place at their Manhattan, NY studio where they produce their daily news hour. Democracy Now! staff provide one-on-one mentorship and supervision to help fellows maximize their exposure to newsroom, production and online publishing practices.
Responsibilities
Responsibilities include:
Assist with daily drafting, copyediting and posting stories from our daily news hour and from our archives to Democracy Now!'s social media channels.
Help monitor social media and trending news items that could become part of ongoing coverage. This may include pitching story ideas and possible guests.
Identify areas for innovation and improvement, as well as ways to enrich Democracy Now!'s coverage based on your areas of interest and outside experience.
Assist with monthly reporting and analytics, identifying trends and ways to better engage the audience.
Online outreach to influencers, publishers, journalists and organizations to circulate our interviews and coverage.
Assist with promoting special programming, events and fundraising campaigns, as needed.
Eligibility
Applicant should have 1-3 years experience with social media and digital journalism.
Avid news consumers on social media. Interest in U.S. politics, international news and social justice issues is a plus.
Strong proofreading skills, detail-oriented and can meet daily deadlines.
Familiarity with social platforms including Facebook, Twitter, YouTube, and Instagram.
Experience maintaining social presence and strategy for a news outlet or comparable organization in a collaborative environment. Content management experience (WordPress, SquareSpace, etc.) is a plus.
Commitment to Democracy Now!'s independent media mission
Creative, flexible and comfortable with the pressures of a live news environment.
Basic image editing experience is a plus, but training can be provided.
Requirements
Applicants must have a valid US work authorization and be available to work full-time in New York City for the duration of the one-year fellowship.
Democracy Now! is an equal opportunity employer. People of color, people with disabilities, women and LGBTQ-identified people are encouraged to apply.
Application
Applications will be reviewed on a rolling basis as received, so applying early is strongly encouraged. All applications must be received by August 15, 2021, and must include:
A complete chronological resume, including dates of employment
The names and contact information for two references
A cover letter that addresses the following points

Why are you a good fit for this position?
How did you discover Democracy Now!?
For more information, visit Digital Fellowship.
However, if you have any feelings regarding the Digital Fellowship, Please kindly drop A COMMENT below and we will respond to it as soon as possible.
BE SOCIAL BY SHARING THIS POST WITH OTHERS!
CONNECT WITH US: Like our Facebook Page, Follow Us On Twitter, AND also Subscribe to Our Feed. Stayed Blessed!
Tags: Digital Fellowship Program, Digital Fellowship Program 2021/2022