Calls for Friedrich-Ebert-Stiftung Open Minds – Young Voices' Youth application 2022/2023 | Eligible and Interested applicants should submit their application now before the closing date.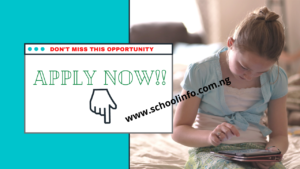 The Friedrich-Ebert-Stiftung 2022 'Open Minds – Young Voices' Youth Activists Programme for young Nigerians application form, requirements, eligibility, application guidelines, application deadline, how to apply, closing date, and other opportunities links for Nigerians is published here on Schoolinfo.com.ng as well as on the official application portal/website.
Application Instruction:
Don't forget that the Friedrich-Ebert-Stiftung Open Minds – Young Voices' Youth application is totally free of charge.
Don't send anyone money for this opportunity.
Beware of Fraudsters!!!!
Subscribe to our notification list with your email to receive the Latest Opportunities Update.
Details of Friedrich Ebert-Stiftung Open Minds Young Voices' Youth Activists Programme.
The Friedrich-Ebert-Stiftung Open Minds – Young Voices Programme is an empowerment programme aimed at developing young, motivated and proactive Nigerians that are working and advocating for social justice and good governance and have great leadership potential. Successful applicants benefit from educational modules that enhance their knowledge on issues of socio-economic and political relevance in Nigeria. Practical sessions include skills training on project management, group facilitation, conflict management, advocacy, and leadership.
If you are actively engaged in any sector of the society including, but not limited to, trade unions, civil society organizations, research institutions, administration, educational institutions and the media; if you have shown commitment to representing the common interest of the Nigerian people – then we are happy to receive your application!
Location and Period of Programme
March to November 2022 at Wuse II, Abuja
Every second and fourth weekend of the month, for 16 – 18 weekends
Saturdays from 9.00 am – 5.00 pm; and Sundays from 12.00 pm – 5.00 pm
Eligibility
Candidates must be:
between the ages of 18 and 32 by the time of application,
conversant with socio-economic and political issues in Nigeria,
creative, progressive and willing to become change agents,
have the potential to be positive role models,
able to communicate fluently in English and partake in regular group assignments,
resident in Abuja or surroundings and cater for their transportation to/from the training
ready to commit to 95% attendance requirement.
How to Apply?
Interested applicants should apply via the online form
In addition, applicants are required to upload the following:
an up-to-date Curriculum Vitae
a Letter of motivation answering the question "How will the programme improve your work for the common good of the Nigerian society?" (500 – 1000 Words).
Qualified women and persons living with disabilities are strongly encouraged to apply!
For More Information:
Visit the Official Webpage of the FES 2022 'Open Minds – Young Voices' Youth Activists Programme
However, if you have any feelings regarding the Friedrich-Ebert-Stiftung Open Minds – Young Voices' Youth, Please kindly drop A COMMENT below and we will respond to it as soon as possible.
BE SOCIAL BY SHARING THIS POST WITH OTHERS!
CONNECT WITH US: Like our Facebook Page, Follow Us On Twitter, AND also Subscribe to Our Feed. Stayed Blessed!
Tags: Friedrich-Ebert-Stiftung Open Minds – Young Voices' Youth Activists Programme