Calls for GlobalGiving Accelerator application 2021/2022 | Eligible and Interested applicants should submit their application now before the closing date.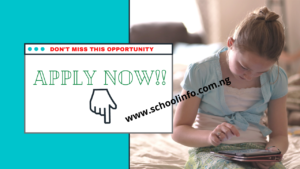 The GlobalGiving Accelerator Program-April 2021 for Nonprofits ($USD 30,000+ in matching funding) application form, requirements, eligibility, application guidelines, application deadline, how to apply, closing date, and other opportunities links for Nigerians is published here on Schoolinfo.com.ng as well as on the official application portal/website.
Application Instruction:
Don't forget that the GlobalGiving Accelerator application is totally free of charge.
Don't send anyone money for this opportunity.
Beware of Fraudsters!!!!
Subscribe to our notification list with your email to receive the Latest Opportunities Update.
Details of GlobalGiving Accelerator.
The GlobalGiving Accelerator is an opportunity for you and your organization to build skills, access tools, and grow your base of supporters to achieve crowdfunding success. When you graduate, your organization becomes a permanent member of GlobalGiving, and you'll have access to all the tools, training, and one-on-one support available in the GlobalGiving community.
The GlobalGiving Accelerator is a virtual training program and crowdfunding campaign that will help you take your fundraising to the next level. Following an optional one-week training curriculum, you'll be entered into an Accelerator campaign where you'll raise at least $5,000 total from a minimum of 40 different donors in order to graduate and secure a permanent fundraising spot on the GlobalGiving platform.
Benefits for Graduates
Organizations that successfully complete the GlobalGiving Accelerator by raising at least $5,000 total from a minimum 40 different donors will earn:
Permanent membership in the GlobalGiving community, including ongoing opportunities to attract new corporate and individual donors
Inclusion in a GlobalGiving press release announcing the Accelerator graduates (example)
A custom media kit to help promote your accomplishment
A certificate of completion from GlobalGiving
Additional promotional opportunities, including through GlobalGiving's social media or homepage, for top-performers
Win Extra Funding from GlobalGiving!
Bonus Day: During the 24-hour Bonus Day, all Accelerator participants will compete for a share of GlobalGiving's $20,000 Incentive Fund and two $1,000 bonus prizes. The more you raise on Bonus Day, the more you win of the Incentive Fund!
Overall Prizes: At the end of the Accelerator, prizes will be awarded to the top three organizations in the following categories: Most Funds Raised, Most Unique Donors, and Most Recurring/Monthly Donors.
Recurring/Monthly Donor Incentives: More information will be shared about all the ways you can win extra funding from GlobalGiving during the Accelerator once your application is approved!
How It Works
TRAINING TOPICS INCLUDE:
Crowdfunding 101;
Mapping your potential donor network;
Storytelling and email appeals; and
Creating SMART goals.
The first step is to complete the online application. Our next deadline to submit applications is February 5, 2021, but we accept applications at any time!START YOUR APPLICATION
For More Information:
Visit the Official Webpage of the GlobalGiving Accelerator Program
However, if you have any feelings regarding the GlobalGiving Accelerator, Please kindly drop A COMMENT below and we will respond to it as soon as possible.
BE SOCIAL BY SHARING THIS POST WITH OTHERS!
CONNECT WITH US: Like our Facebook Page, Follow Us On Twitter, AND also Subscribe to Our Feed. Stayed Blessed!
Tags: GlobalGiving Accelerator, GlobalGiving Accelerator 2021/2022