Calls for GNPC Local Undergraduate and Postgraduate Scholarships application 2020/2021 | Eligible and Interested applicants should submit their application now before the closing date.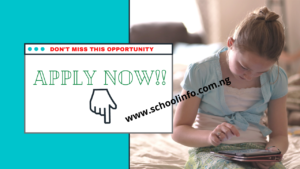 The GNPC application form, requirements, eligibility, application guidelines, application deadline, how to apply, closing date, and other opportunities links for Nigerians is published here on Schoolinfo.com.ng as well as on the official application portal/website.
Application Instruction:
Don't forget that the GNPC application is totally free of charge.
Don't send anyone money for this opportunity.
Beware of Fraudsters!!!!
Subscribe to our notification list with your email to receive the Latest Opportunities Update.
Details of GNPC Local Undergraduate and Postgraduate Scholarships.
The GNPC Local Scholarship 2021/2022 is open to eligible Ghanaian students pursuing undergraduate and postgraduate studies at any public tertiary institution in Ghana.
The GNPC Scholarship covers tuition, accomodation, living expenses and learning materials.
Eligibility Requirements
Applicants must be a Ghanaian
Must have obtained admission to pursue an undergraduate or postgraduate degree programme at a public tertiary institution.
Teachers and lecturers in STEM (to improve the teaching of STEM for capacity building).
Tutors pursuing English and Ghanaian Languages, TVET at technical institutions, Nursing Training Colleges and Colleges of Educations.
Persons with disabilities (Applicants with any form of disability are required to upload medical certificate stating the level/seriousness of disability)>
Please Note
All applications are to be done online (www.gnpcghana.com).
Submission of hard copies of application will be rejected.
This facility does not apply to sandwich, part-time, private or fee-paying student in public-tertiary institutions.
For applicants with any form of disability, upload medical report as evidence of disability
Continuing students are to upload their statement of results
Applicants who enjoy any form of educational scholarship should not apply.
It is important that your eligibility for this scholarship award is based on accurate information. Misrepresentation in any material form renders the application null and void. Any award made based on misrepresentation shall be withdrawn and if any investments are made based on the misrepresentation, the applicant must be asked to provide a refund or may face prosecution or both.
Important Dates and Deadlines
Opening and Closing dates of portal for postgraduates applicants
19th -31st October, 2020
Opening and Closing dates of portal for undergraduates:
2nd – 22nd November, 2020.
Online Interview dates for selected posgraduate applicants:
16th to 20th November 2020.
For More Information:
Visit the Official Webpage of the GNPC 2020/21 Local Undergraduate and Postgraduate Scholarships.
However, if you have any feelings regarding the GNPC, Please kindly drop A COMMENT below and we will respond to it as soon as possible.
BE SOCIAL BY SHARING THIS POST WITH OTHERS!
CONNECT WITH US: Like our Facebook Page, Follow Us On Twitter, AND also Subscribe to Our Feed. Stayed Blessed!
Tags: GNPC Local Undergraduate and Postgraduate Scholarships, GNPC Local Undergraduate and Postgraduate Scholarships 2021/2022