Calls for Google Summer of Code application 2021/2022 | Eligible and Interested applicants should submit their application now before the closing date.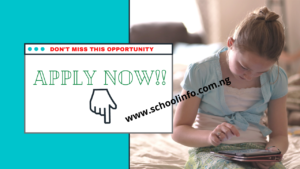 The Google Summer of Code application form, requirements, eligibility, application guidelines, application deadline, how to apply, closing date, and other opportunities links for Nigerians is published here on Schoolinfo.com.ng as well as on the official application portal/website.
Application Instruction:
Don't forget that the Google Summer of Code application is totally free of charge.
Don't send anyone money for this opportunity.
Beware of Fraudsters!!!!
Subscribe to our notification list with your email to receive the Latest Opportunities Update.
Details of GSoC developers.
Google Summer of Code is a global program focused on bringing more student developers into open source software development. Students work with an open source organization on a 10 week programming project during their break from school.
Spend your summer break writing code and learning about open source development while earning a stipend! Accepted students work with a mentor and become a part of the open source community. Many become lifetime open source developers!
As a part of Google Summer of Code, student participants are paired with a mentor from the participating organizations, gaining exposure to real-world software development and techniques. Students have the opportunity to spend the break between their school semesters earning a stipend while working in areas related to their interests.
In turn, the participating organizations are able to identify and bring in new developers who implement new features and hopefully continue to contribute to open source even after the program is over. Most importantly, more code is created and released for the use and benefit of all.
Requirements
Google Summer of Code is open to students, age 18 and older enrolled in a post secondary academic program in most countries.
Student Eligibility
Must be at least 18 years old at time of registration.
Must be enrolled in or accepted into a post secondary academic program including (but not necessarily limited to) colleges, universities, masters programs, PhD programs, undergraduate programs, licensed coding schools as of the GSoC Student Acceptance Date (May 17, 2021). Or graduation from a post secondary program between December 1, 2020 and May 17, 2021.
Must be eligible to work in their country of residence during duration of program.
Must be a resident of a country not currently embargoed by the United States.
Organization Eligibility
Mentor organizations must run an active open source or free software project.
Have produced and released software under an OSI approved license.
Must not be based in a country currently embargoed by the United States
Organizations
Apply to be a mentor organization and help bring in new, excited developers to your open source community!
Applications open January 29, 2021 at 14:00 (Eastern Standard Time)
Students
Spend your summer break writing code for an open source software project!
Applications open March 29, 2021 at 14:00 (Eastern Daylight Time)
How It Works
Apply
Interested students propose a project to work on.
Code
Accepted students spend the summer coding with guidance from a mentor.
Share
Submit your code for the world to see!
For More Information:
Visit the Official Webpage of the Google Summer of Code (GSoC) 2021
However, if you have any feelings regarding the Google Summer of Code, Please kindly drop A COMMENT below and we will respond to it as soon as possible.
BE SOCIAL BY SHARING THIS POST WITH OTHERS!
CONNECT WITH US: Like our Facebook Page, Follow Us On Twitter, AND also Subscribe to Our Feed. Stayed Blessed!