Calls for Millennium Oceans Prize application 2020 | Eligible and Interested applicants should submit their application now before the closing date.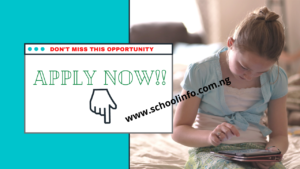 The Millennium Oceans Prize application form, requirements, eligibility, application guidelines, application deadline, how to apply, closing date, and other opportunities links for Nigerians is published here on Schoolinfo.com.ng as well as on the official application portal/website.
Application Instruction:
Don't forget that the Millennium Oceans Prize application is totally free of charge.
Don't send anyone money for this opportunity.
Beware of Fraudsters!!!!
Subscribe to our notification list with your email to receive the Latest Opportunities Update.
Details of Millennium Oceans Prize.
Are you an undergraduate student who is passionate about the health of our oceans and life under water? If yes, then apply for the Millennium Oceans Prize!
The Millennium Ocean Prize is a returning for its fifth year to support and celebrate students passionate about conserving, protecting, and sustainably using oceans, seas, and marine water and life.
The Millennium Oceans Prize is returning for its sixth year to support and celebrate students who are passionate about conserving, protecting, and sustainably using oceans, seas, and marine water and life.
The Millennium Oceans Prize targets Sustainable Development Goal 14 by celebrating youth activists who are focused on enriching their communities through advancing marine and freshwater conservation and sustainable use of marine resources. Prize winners will receive mentorship and a $5,000 prize for implementation of a concrete campaign idea to spark change and garner support in advocacy, policy, and leadership for oceans and freshwater systems.
The Millennium Oceans Prize celebrates youth activism advancing Marine and Freshwater conservation, and sustainable use of oceans, seas, rivers, lakes and marine resources.  Initiatives that champion sustainable fisheries will receive special consideration. The objectives of this Prize are reflected in the proposed United Nations Sustainable Development Goal #14. The Prize and Campaign it enables is supported by Millennium Campus Network (MCN) and the Remmer Family Foundation.
Requirements
MCN are looking for campaign ideas that are concrete and can rally your peers to mobilize in this sector. How can you engage youth leaders on other campuses and in communities across the globe to fight for and champion advocacy and leadership for the oceans, freshwater systems, sustainable fishing, and marine conservation? Your campaign could take shape through activism, social entrepreneurship, or research. How will you mobilize your community and inspire youth leaders world-wide to take part in the fight for sustainable practices that protect our oceans and freshwater systems?
THE PRIZE
The best part of this prize is the opportunity to cultivate a community of peers who care just as much about the oceans and marine resources as you do. Here are the specifics:
Up to $5,000 to implement your winning campaign
Mentorship and support from MCN
Co-curate campaign action groups, mobilizing and coordinating with peers who are passionate about SDG 14
Write for our media partners about your campaign
Co-curate global webinars with the MCN and the Remmer Family Foundation during the academic year to keep peers engaged and involved.
THE TIMELINE
May 1, 2020: Millennium Ocean Prize Opens.
May 30: Priority Round 1 Deadline. Early applications strongly encouraged.
June 15: Final Application Deadline
July 1: Finalists Interview
August 1st: 2020 Millennium Oceans Prize winner announced
August – April 2020: Campaign is in action.
Mid-September: Millennium Oceans Prize Winner formally recognized in front of student leaders and global leaders worldwide.
Summer/Fall 2020: Campaign results shared.
For More Information:
Visit the Official Webpage of the MCN Millennium Oceans Prize 2020
However, if you have any feelings regarding the Millennium Oceans Prize, Please kindly drop A COMMENT below and we will respond to it as soon as possible.
What's your take in this post? Please don't keep it to yourself;
BE SOCIAL BY SHARING THIS POST WITH OTHERS!
CONNECT WITH US: Like our Facebook Page, Follow Us On Twitter, AND also Subscribe to Our Feed. Stayed Blessed!
Tags: MCN Millennium Oceans Prize, MCN Millennium Oceans Prize 2020