Calls for MECAM Fellowships application 2021/2022 | Eligible and Interested applicants should submit their application now before the closing date.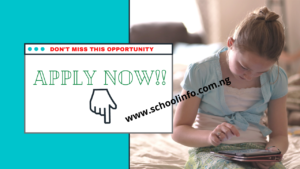 The MECAM Fellowships application form, requirements, eligibility, application guidelines, application deadline, how to apply, closing date, and other opportunities links for Nigerians is published here on Schoolinfo.com.ng as well as on the official application portal/website.
Application Instruction:
Don't forget that the MECAM application is totally free of charge.
Don't send anyone money for this opportunity.
Beware of Fraudsters!!!!
Subscribe to our notification list with your email to receive the Latest Opportunities Update.
Details of MECAM Fellowships.
Applications are open for the MECAM Fellowships for IFG "Inequality & Mobility". For its second Interdisciplinary Fellow Group (IFG) "Inequality & Mobility", MECAM invites applications for six short-term fellowships for early career researchers in the social sciences from September to December 2021.
Four post-doctoral researchers and two advanced PhD candidates will be selected to form a fellow group at MECAM and will be required to take up residence in Tunis and to participate in an on-site scientific programme between September and December 2021. While developing and presenting their own research, fellows will also contribute to a joint working paper and events organised in the framework of the IFG.
This MECAM Fellowship invites early career researchers investigating questions including, but not limited to:
What are the forms of inequality that have historically shaped Tunisia and the Maghreb, and what new dimensions of inequality will determine its future?
What are the variegated relationships between inequality and mobility that are crucial to comprehend present-day socio-economic and political challenges in Tunisia and the Maghreb?
To what extent and in what ways can different forms of mobility impact inequality, and what decisions /politics/ or policies are needed to allow for mitigating effects?
Benefits
Mobility: MECAM's resident fellowships are awarded to individuals for four months from September 1 to December 31, 2021 on the basis of an innovative and high-quality research proposal that addresses the IFG's thematic focus. MECAM will host the selected fellows for a three month on-site scientific programme in Tunis between September 15 and December 15, 2021. Only in exceptional cases due to the pandemic, fellowships can be arranged in a hybrid format, where the fellow remains at her/his place of residence for a part of the fellowship. Successful applicants will become 'MECAM fellows' with all relevant rights and obligations: Travel and relocation costs will be compensated according to a "no gain/no loss" principle. Furthermore, proven research costs can be reimbursed up to an amount of 500 EUR. A monthly living stipend will be awarded for the duration of the fellowship according to the same "no gain/no loss" principle.
Network: MECAM Fellows will become part of a network, which will be built up by subsequent groups of fellows over the next years, and by the scholars of the institutions that are involved in the institutional framework.
Exchange and Debate: The IFG combines virtual and in-person forms of exchange and debate, and facilitates collaboration and engagement with scholars at MECAM partner institutions, students, and the wider public.
Independence: MECAM offers the freedom to pursue individual research projects, such as a particular component of field research, an academic article, an essay, a policy paper, a book, a report, etc.
Support: MECAM provides its fellows with office workspaces equipped with digital infrastructure as well as publication facilities for open-access and peer-reviewed formats of publication through the infrastructures of its partners. It offers logistical support with travel, accommodation and field research in Tunisia. Moreover, the exchange between fellows is supported by a secure digital workspace (TrafoHub) and other digital tools.
Eligibility
Applications are welcome from early career researchers, either advanced PhD candidates or postdoctoral researchers, in human geography, urban studies, sociology, anthropology, or a related field;
You are interested in discussing your research in the framework of MECAM's main theme "Imagining futures – Dealing with disparity" with colleagues from the Maghreb, the Middle East and Europe.
You are eager to do collaborative work, engage in debate and exchange within an interdisciplinary group of fellows on questions of "Inequality & Mobility".
You are interested in revisiting your research from a different vantage point.
You want to become part of a (new) network of interdisciplinary, intergenerational, and transregional exchange and debate on disparity and the competing models for the future that co-exist in the societies of the contemporary Maghreb, Europe, and other parts of the world.
Application
As part of your application, you will be asked to prepare and upload:
Curriculum vitae including publications (2-3 pages),
Research proposal: Short abstract of your project (max. 1000 words),
Names and contact details of two referees (university faculty members or practitioners in a field relevant to the applicant's project; no letters of recommendation required),
One recent writing sample: journal article (published or forthcoming), book or thesis chapter.
For more information, visit MECAM Fellowships.
However, if you have any feelings regarding the MECAM, Please kindly drop A COMMENT below and we will respond to it as soon as possible.
BE SOCIAL BY SHARING THIS POST WITH OTHERS!
CONNECT WITH US: Like our Facebook Page, Follow Us On Twitter, AND also Subscribe to Our Feed. Stayed Blessed!