Calls for Mérieux Foundation application 2020 | Eligible and Interested applicants should submit their application now before the closing date.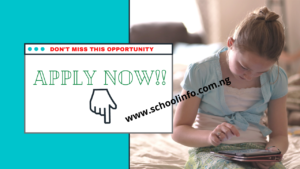 The Mérieux Foundation application form, requirements, eligibility, application guidelines, application deadline, how to apply, closing date, and other opportunities links for Nigerians is published here on Schoolinfo.com.ng as well as on the official application portal/website.
Application Instruction:
Don't forget that the Mérieux Foundation application is totally free of charge.
Don't send anyone money for this opportunity.
Beware of Fraudsters!!!!
Subscribe to our notification list with your email to receive the Latest Opportunities Update.
Details of Mérieux Foundation.
Deadline: August 1, 2020
Applications are invited for the Mérieux Foundation Small Grants Program 2020. The grants program contributes towards financing projects that aim to improve the prevention, diagnosis and treatment of infectious diseases. The projects including as beneficiaries mothers and children will be given priority.
The mission of the Mérieux Foundation is to fight the infectious diseases that affect vulnerable populations in developing countries, especially mothers and children, by building local capacities.
They work in over 20 countries worldwide, in regions prone to infectious outbreaks, and mount their own projects, working closely with local and international partners.
Grant
Selected projects will receive financial support of up to €5,000 Euros.
Eligibility
For Organisations
Registered with the authorities of the country
Status of association under the law of 1901 or recognized as a public utility or equivalent status for foreign structures,
Nonprofit and independent management,
Exclusive mission of public interest in connection with the Mérieux Foundation's mandate: fight against the infectious diseases the affects the most vulnerable populations in developing countries, especially mothers and children,
Respect and sign the ethical principles of the Mérieux Foundation's Charter: transparency, professionalism, quality, independence, non-discrimination, respect,
Not convicted (the organization or one of its member) of acts contrary to the principles stated above,
Not in bankruptcy or receivership.
Only projects implemented by local organizations will be studied.
For Projects
Objectives and activities related to and consistent with the Mérieux Foundation's mission and focusing on HIV/AIDS, tuberculosis, malaria, hepatitis, neglected tropical diseases and other infectious diseases representing significant public health issues;
Projects taking a global approach to health, including physical, social and psychological aspects;
Projects based on a local needs assessment;
Projects proposing concrete solutions, beyond education and raising awareness;
Projects that are adapted to the population that is targeted and are long-term in nature;
Strong local involvement: links with local authorities, local associations and beneficiaries;
Harmonization with existing initiatives in the concerned location;
Respect of ethical principles and gender equality in the implementation of the project.
Project takes place in one of the following countries:

Africa: Algeria, Benin, Burkina Faso, Burundi, Cameroon, Cape Verde, Central African Republic, Chad, Comoros, Congo, Democratic Republic of the Congo, Djibouti, Egypt, Equatorial Guinea, Gabon, Guinea, Ivory Coast, Madagascar, Mali, Mauritania, Morocco, Niger, Rwanda, Sao Tome & Principe, Tunisia, Senegal, Togo.
Americas: Brazil, Haiti
Asia: Bangladesh, Cambodia, Iraq, Iran, Laos, Lebanon, Myanmar, Tajikistan, Vietnam.
Oceania: Vanuatu
Application
The following documents should be attached to the application:
Copy of the official statutes of the organization
Activity report from the previous year of the organization
Budget and financial accounts from the previous year of the organization, certified by the competent authorities
Detailed budget of the project
Location map of the project
Any reference of financial and operational partners of the organization
Any useful document related to the project
Click here to submit your application
For more information, visit Mérieux Foundation Small Grants.
However, if you have any feelings regarding the Mérieux Foundation, Please kindly drop A COMMENT below and we will respond to it as soon as possible.
What's your take in this post? Please don't keep it to yourself;
BE SOCIAL BY SHARING THIS POST WITH OTHERS!
CONNECT WITH US: Like our Facebook Page, Follow Us On Twitter, AND also Subscribe to Our Feed. Stayed Blessed!
Tags: Mérieux Foundation Small Grants Program, Mérieux Foundation Small Grants Program 2020