Calls for Nigeria Climate Innovation Center application 2022/2023 | Eligible and Interested applicants should submit their application now before the closing date.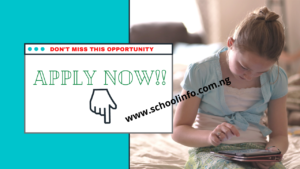 The Nigeria Climate Innovation Center Application Instruction application form, requirements, eligibility, application guidelines, application deadline, how to apply, closing date, and other opportunities links for Nigerians is published here on Schoolinfo.com.ng as well as on the official application portal/website.
Application Instruction:
Don't forget that the Nigeria Climate Innovation Center application is totally free of charge.
Don't send anyone money for this opportunity.
Beware of Fraudsters!!!!
Subscribe to our notification list with your email to receive the Latest Opportunities Update.
Details of Nigeria Climate Innovation Center.
The effects of climate change have birthed a consistent global drive to disrupt energy consumption from fossil and dirty fuels to renewable sources that are cleaner and more sustainable. This has triggered an ecosystem of climate-smart innovators, entrepreneurs, and green startups to develop and deploy alternative solutions aimed at closing the energy access gap in their various communities. This narrative isn't too far off the Nigerian energy dilemma where according to a USAID report, only about 60% of the country's population have access to electricity.
To this end, the tripartite partnership of Allon (through the Rockefeller Foundation), Enterprise Development Center (EDC) and Nigeria Climate Innovation Center (NCIC) has created an incubation program called "Embryo Incubation Program (EIP) " which is targeted at selecting eligible early-stage businesses or startups playing in the renewable energy (RE) space in Nigeria.
The embryo incubation program is a 6-month incubation program run by the NCIC. All On, and off-grid Energy Impact Investment Firm funded and supported the program via its technical support facility, the Rockefeller Foundation funded All On Hub.
Requirements
The program is tailored towards equipping the cohort with the requisite skills and capacity needs to impact and develop their ventures from ideation to profitable full-fledged enterprises.
The EIP will run virtually for a period of 6 months.
At the end of the EIP, there would be a physical demo day which includes a pitch session and a panel of judges where 8 businesses will be selected and awarded an equity free grant of $10,000 each.
Application Procedure:
For further information and clarification please send an email to info@nigeriacic.org
Applications will close on March 4, 2022. You will be contacted immediately upon successful application.
For More Information:
Visit the Official Webpage of the NCIC 2022 Embryo Incubation Program
However, if you have any feelings regarding the Nigeria Climate Innovation Center, Please kindly drop A COMMENT below and we will respond to it as soon as possible.
BE SOCIAL BY SHARING THIS POST WITH OTHERS!
CONNECT WITH US: Like our Facebook Page, Follow Us On Twitter, AND also Subscribe to Our Feed. Stayed Blessed!