Job Vacancy Application at OJ Wale Pillar Metals and Tech Limited Ongoing | How to Apply Online.
The OJ Wale Pillar Metals and Tech Limited recruitment application form, requirements, eligibility, available positions, qualifications needed, application guidelines, application deadline-closing date, and other job updates in Nigeria are published here on Schoolinfo.com.ng for free.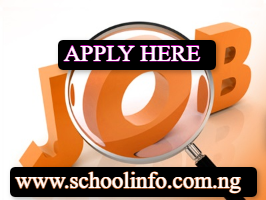 OJ Wale Pillar Metals and Tech Limited Job Vacancies
NOTE:
Don't forget that OJ Wale Pillar Metals and Tech Limited recruitment is totally free of charge.
Don't send anyone money for this recruitment opportunity.
Beware of Fraudsters!!!!
Subscribe to our notification list with your email to receive the Latest Jobs Update.
Details of OJ Wale Pillar Metals and Tech Limited Job Vacancy Position & How to Apply.
O J Wale Pillars Metal and Tech Limited is a Nigerian-based Solar Energy Company that is focused on Providing sustainable uninterrupted alternative source of energy solutions for home and businesses across Nigeria and to ensure that it's eco-friendly and totally free from noise pollution. Our source of energy ensures the conservation of energy and quick power supply for immediate utilization for end users. O J Wale Pillars Metal and Tech Limited was registered on 24th of April 2015 with the Corporate Affairs Commission. However, we have been in the Solar energy business since 2010 (10 years ago), while Battery Hunters Limited as a subsidiary was registered on 19th July, 2019. At O J Wale Pillars Metal and Tech Limited, we are known for innovative and exceptional after-sales service and support for all our Clients and customers through our seasoning Engineers and customer service representatives as we provide alternative energy solutions to each home, organizations, schools, industries, government agencies and non-governmental parasternal.
We are recruiting to fill the position below:
Job Title: Purchasing Officer
Location: Wuye, Abuja (FCT)
Employment Type: Full-time
Job Description
Ensure all customers are attended to within short period of time in a professional manner.
Scale all scraps batteries from suppliers and record same (both Kg/Pcs) to avoid discrepancy.
Prepare cash payment vouchers for every scrap transaction documented and approved for payment.
To facilitate the discovery of Scraps or fairly used battery which are classify as tested OK and confirmed their quality.
Keep and track the stocks level through accurate stocks keeping records for both Inverter and Okada/UPS Battery
Reconcile all cash received and retire all unspent cash on daily basis.
Maintain updated records of purchased products and out of stocks products.
To coordinate the arrangement of Scrap Battery in the Warehouse properly and Assist where necessary in arranging them.
To ensure that all water in the battery are properly and well drain before purchasing takes place.
To monitor the Scaling Machine condition on daily basis for accurate scaling and recording.
To ensure clean and friendly working environment at all time.
To ensure all Scrap suppliers money are paid either through Cash, Transfer, POS and other means as approve by the Management.
Requirements
Candidates should possess an OND / NCE / HND / B.Sc Degree.
1 – 2 years relevant work experience.
Computer Literate
Smart and good with numbers.
How To Apply
Interested and qualified candidates should send their CV to:
ojwalesolar@gmail.com
using the Position applied for as the subject of the email.
However, if you have any Feelings regarding the OJ Wale Pillar Metals and Tech Limited Job Recruitment, Please kindly DROP A COMMENT below and we will respond to it as soon as possible.
Please help others by sharing this post on any social media.
CONNECT WITH US: Like our Facebook Page, Follow Us On Twitter, AND also Subscribe to Our Feed. Stayed Blessed!
Tags: OJ Wale Pillar Metals and Tech Limited, OJ Wale Pillar Metals and Tech Limited Job Vacancy