Calls for Recore Limited application 2021/2022 | Eligible and Interested applicants should submit their application now before the closing date.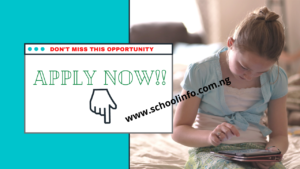 The Program Manager at Recore Limited 2021 application form, requirements, eligibility, application guidelines, application deadline, how to apply, closing date, and other opportunities links for Nigerians is published here on Schoolinfo.com.ng as well as on the official application portal/website.
Application Instruction:
Don't forget that the Recore Limited application is totally free of charge.
Don't send anyone money for this opportunity.
Beware of Fraudsters!!!!
Subscribe to our notification list with your email to receive the Latest Opportunities Update.
Details of Recore Limited.
Recore Limited – Our client, a Humanitarian organization is recruiting to fill the position below:
We require the services of an experienced Program Manager to organize and coordinate programs for major projects and provide strategic guidance to various teams including the Faculties & Board subcommittees in ways that deliver the corporate objectives and promote good performance culture.
Job scope requires that the successful candidate oversees activities of a major project, manage the institute's programs, lead marketing operations to grow clientele and implement planned change programs.
The ideal candidate should have excellent leadership skills with experience in managing contributions from several different disciplines to produce results in a timely manner. The ability to develop efficient strategies and tactics are a major component of the daily routine.
The goal is to ensure that all programs deliver desirable outcome to the organizations through well coordinated engagements.
Job Responsibilities
Deliver strategic objectives by overseeing multiple project activities.
Formulate, organize, and monitor inter-connected projects
Coordinate cross-project activities
Develop and control deadlines, budgets, and activities
Manage the secretariat and act as Board secretary.
Oversee marketing and advertising campaigns, lead preparation of marketing and advertising, strategies, plans, and objectives; plan and organize promotional presentations to address corporate interests; update calendars.
Regularly prepare reports for directors, Board members and other stakeholders.
Manage change, risk, and resources
Supervise assigned staff; manage human resource goals by recruiting, training, coaching, and supervising employees.
Communicate job expectations by planning, monitoring, appraising, and reviewing job contributions.
Oversee programs of the Institute including coordination of faculty activities and providing data management and secretarial support to the Faculty staff and volunteers.
Plan and review compensation actions and enforces policies and procedures.
Achieve operational objectives by contributing information and recommendations to strategic plans and reviews and preparing and completing action plans
Implement productivity, quality, and customer-service standards by resolving problems, completing audits, identifying trends, determining system improvements, and implementing change.
Meet financial objectives by preparing an annual budget, scheduling expenditures, analysing variances, and initiating corrective actions.
Qualifications / Skills
Education and Experience:
Bachelor's degree, PMI added advantage.
Minimum of 7 years' experience in Program Management or equivalent
Minimum of 3 years' management experience
Staffing, planning, and people management
Managing performance and profitability
Financial planning and strategy
Promoting process improvement
Strategic planning
Dealing with complexity, analysing information, and implementing company vision.
Proposed Net Salary
N145,000 / month.
How to Apply
Interested and qualified candidates should send their CV to: recruitmentkings2015@gmail.com using the Job Title as the subject of the mail.
However, if you have any feelings regarding the Recore Limited, Please kindly drop A COMMENT below and we will respond to it as soon as possible.
BE SOCIAL BY SHARING THIS POST WITH OTHERS!
CONNECT WITH US: Like our Facebook Page, Follow Us On Twitter, AND also Subscribe to Our Feed. Stayed Blessed!