Calls for Rhodes Global Scholarships application 2021/2022 | Eligible and Interested applicants should submit their application now before the closing date.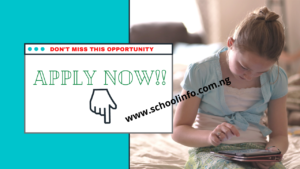 The Rhodes Global Scholarships 2022 for Postgraduate Study at the University of Oxford, United Kingdom (Fully Funded application form, requirements, eligibility, application guidelines, application deadline, how to apply, closing date, and other opportunities links for Nigerians is published here on Schoolinfo.com.ng as well as on the official application portal/website.
Application Instruction:
Don't forget that the Rhodes Southern Africa application is totally free of charge.
Don't send anyone money for this opportunity.
Beware of Fraudsters!!!!
Subscribe to our notification list with your email to receive the Latest Opportunities Update.
Details of Rhodes Southern Africa.
The Rhodes Scholarships, established in 1903, are the oldest international scholarship programme in the world, and one of the most prestigious. Administered by the Rhodes Trust in Oxford, the programme offers 100 fully-funded Scholarships each year for postgraduate study at the University of Oxford in the United Kingdom – one of the world's leading universities. Rhodes Scholarships are for young leaders of outstanding intellect and character who are motivated to engage with global challenges, committed to the service of others and show promise of becoming value-driven, principled leaders for the world's future. The broad selection criteria are:
– Academic excellence – specific academic requirements can be found under 'Eligibility Criteria' below.
– Energy to use your talents to the full (as demonstrated by mastery in areas such as sports, music, debate, dance, theatre,
and artistic pursuits, including where teamwork is involved).
– Truth, courage, devotion to duty, sympathy for and protection of the weak, kindliness, unselfishness and fellowship.
– Moral force of character and instincts to lead, and to take an interest in your fellow human beings.
Eligibility Criteria
a. Nationality/citizenship: Eligibility to any other Rhodes Scholarship renders you ineligible to apply for a Global
Scholarship, i.e. if you are eligible to apply via any existing Rhodes Constituency
(https://www.rhodeshouse.ox.ac.uk/scholarships/list-of-rhodes-scholarship-countries/), you must apply there.
Please also see the information below and online regarding inter-jurisdictional consideration – it may be in
your interest to pursue that route rather than to apply for a Global Scholarship, which will likely be the most
competitive Scholarships offered by the Rhodes Trust.
b. Age: Upon 1 October 2021, you must meet either of the below criteria:
i. You must be at least 18 and have not reached your 24th birthday (i.e. you must have been born after 1 October
1997 and on or before 1 October 2003).
OR (for older candidates who completed their first undergraduate degree later than usual)
ii. You must have not reached your 27th birthday (i.e. have been born after 1 October 1994) AND you have met or
will meet the requirements for completion of your first degree on or after 1 October 2020*
A university's policy determines the date a degree is considered awarded. In ambiguous cases, the decision of the
National Secretary is final.
c. Academic achievement: You must have completed (or will have completed by June / July 2022) an undergraduate degree with a First Class or minimum GPA minimum of 3.70 out of 4.0 (or equivalent). Please note carefully the requirements for your chosen course at Oxford, which may be higher still. Successful candidates typically feature within the top few ranks of their graduating classes.
d. English language: You must have a sufficiently high standard of English to meet the English language proficiency requirements (at the Higher Level listed) of the University of Oxford.
e. If unsuccessful in your first application to the Rhodes Scholarships, you may subsequently re-apply only once more (and this must be in the same constituency), subject to meeting the eligibility criteria.
Application Procedure
a. You will not be able to submit your application for the Global Scholarship without prior nomination by your University. Each university has a limited number of nominations that they can make each year. You must register the most appropriate nominator via the application form and once their nomination has been received, you will be permitted to submit your form. In addition, before you can submit your application it needs to be checked by a member of staff at Rhodes House to ensure that you meet the eligibility criteria. Once you have completed the
form you will be able to tick a box requesting your eligibility check, the Rhodes House team will then complete the
check within 2 working days and you will be notified by email once this is complete.You can apply online from 01
June 2021 at http://www.rhodeshouse.ox.ac.uk/scholarships/apply via the scholarships tab.
b. You must submit your application online, with all supporting documents, by 23:59 Greenwich Mean Time (GMT),
02 August 2021.
c. In preparation for making your application, you should read carefully the general information, particularly that held
on the Scholarships tab, on the Rhodes House website, the Conditions of Tenure for the Rhodes Scholarship, the
information in this document and the graduate admissions pages of the University of Oxford:
www.ox.ac.uk/admissions/graduate.
d. Longlisted candidates might be invited to attend a preliminary interview via Skype.
e. Shortlisted candidates will be invited to a social engagement (a reception and dinner) and a final interview. You
must be available to attend both, in person, as no accommodations can be made on date and time, or mode, of
these events. Interviews will be held at Rhodes House, Oxford, UK in November. No candidate will be selected
without an interview. Candidates for the Scholarship invited for the final interview and residing outside of the
United Kingdom may apply to the Rhodes Global Scholarships Administrator for financial assistance to travel from
their country of origin, provided that the travel could not be funded by their University or another sponsorship source.
f. All applicants will be emailed with the outcome of their application.
National Secretary for Global
Mr Terrence Tehranian
Queries:
Any queries from applicants or nominating institutions can be sent to scholarship.queries@rhodeshouse.ox.ac.uk
For More Information:
Visit the Official Webpage of the Rhodes Global Scholarships 2022
However, if you have any feelings regarding the Rhodes Southern Africa, Please kindly drop A COMMENT below and we will respond to it as soon as possible.
BE SOCIAL BY SHARING THIS POST WITH OTHERS!
CONNECT WITH US: Like our Facebook Page, Follow Us On Twitter, AND also Subscribe to Our Feed. Stayed Blessed!
Tags: Rhodes Global Scholarships, Rhodes Global Scholarships 2022