Calls for Smithsonian application 2020/2021 | Eligible and Interested applicants should submit their application now before the closing date.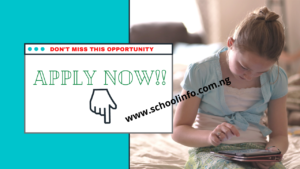 The Smithsonian Biodiversity Genomics Postdoctoral Fellowship Program 2020/2021 (Funding available) application form, requirements, eligibility, application guidelines, application deadline, how to apply, closing date, and other opportunities links for Nigerians is published here on Schoolinfo.com.ng as well as on the official application portal/website.
Application Instruction:
Don't forget that the Smithsonian application is totally free of charge.
Don't send anyone money for this opportunity.
Beware of Fraudsters!!!!
Subscribe to our notification list with your email to receive the Latest Opportunities Update.
Details of Smithsonian.
Applications are open for the Smithsonian Biodiversity Genomics Postdoctoral Fellowship Program 2020/2021. The Fellowship in Biodiversity Genomics promotes collaborative research in fields involving comparative genomic approaches such as phylogenomics, population genomics, metagenomics or transcriptomics, and have a component that involves significant bioinformatics analysis.
The Smithsonian's molecular research facilities are located at National Museum of Natural History (NMNH), Smithsonian Conservation Biology Institute/National Zoological Park (SCBI/NZP), Smithsonian Environmental Research Center (SERC), and the Smithsonian Tropical Research Institute (STRI) in the Republic of Panama. Collaboration among SI facilities is encouraged.
Fellowship
The stipend for Postdoctoral and Senior Fellows is $50,400 per year (twelve months). Stipends are prorated for periods of less than twelve months.
In addition to the stipend, allowances to assist with the fellow's research related expenses and for temporary relocation to the Smithsonian are possible.
A maximum research allowance of $4,000 is available.
Eligibility
Applicants must propose to conduct research in-residence for a period of 12 to 24 months.
Applicants must have completed or be near completion of the Ph.D. Recipients who have not completed the Ph.D. at the time of application must provide proof of completion of the degree before the fellowship begins.
Applicants interested in conducting research at these facilities are strongly encouraged to contact potential advisors/hosts at any of the Smithsonian's various Museums and Research Institutes prior to proposal preparation and submission.
Application
All applications must be submitted by November 1, 2020 through SOLAA. Notification of decisions will be made the first week in March.
For more information, visit Smithsonian Fellowships.
However, if you have any feelings regarding the Smithsonian, Please kindly drop A COMMENT below and we will respond to it as soon as possible.
BE SOCIAL BY SHARING THIS POST WITH OTHERS!
CONNECT WITH US: Like our Facebook Page, Follow Us On Twitter, AND also Subscribe to Our Feed. Stayed Blessed!
Tags: Smithsonian Biodiversity Genomics Postdoctoral Fellowship 2020/2021, Smithsonian Biodiversity Genomics Postdoctoral Fellowship Program