Calls for Sony Music Group application 2022/2023 | Eligible and Interested applicants should submit their application now before the closing date.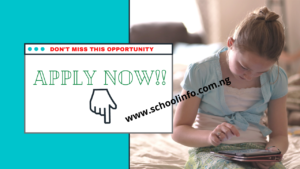 The Sony Music Group Global Scholars Program application form, requirements, eligibility, application guidelines, application deadline, how to apply, closing date, and other opportunities links for Nigerians is published here on Schoolinfo.com.ng as well as on the official application portal/website.
Application Instruction:
Don't forget that the Sony Music Group application is totally free of charge.
Don't send anyone money for this opportunity.
Beware of Fraudsters!!!!
Subscribe to our notification list with your email to receive the Latest Opportunities Update.
Details of Sony Music Group
Sony Music Group, in partnership with IIE, is pleased to announce a new global scholarship program that will propel the future careers of young, diverse talent in the music industry. This signature scholarship program aims to advance access to post-secondary education at a wide range of leading music and music business education institutions in the global community.
Requirements
This scholarship is open to students who are planning to enroll full-time in an accredited college or university degree, including 3-4 year undergraduate degree programs, in music or music business-related fields of study during the academic year of 2022-2023.
Maintaining a U.S. equivalent GPA of 3.0 on a 4.0 scale or above is required to apply for this scholarship.
An applicant's academic record must show potential to succeed in a college/university program in their intended music industry field.
A demonstrated financial need.
Applicants do not need to be accepted into a program at the time of application, but if selected for a scholarship, proof of full-time enrollment will be required before scholarship funds can be sent.
Selection Criteria
Scholarship applicants will be evaluated based on the following criteria:
Achievement and potential in music fields
Demonstrated leadership potential and ability
Personal character, commitment, and potential in their chosen field of study and future music industry career
Clearly expressed financial need to support educational goals
Academic achievement
Career and academic goals in line with stated scholarship objectives
Compelling references
Benefits
For students in the United States selected for the scholarship, IIE will require that they submit their financial aid package information. Based on the student's unmet financial needs, IIE will determine the scholarship amount ranging between USD 3,000 and USD 20,000.
How to Apply
A complete application must be submitted in English and will include:
Completed online application form
A personal statement (up to 3,500 characters)
An estimate of your expected tuition and mandatory fees to complete your degree programs during the academic year of 2022-2023;
Two reference letters. The letters must come from non-family members who know you well – for example, a teacher, instructor, professor, employer/work supervisor, scout leader, advisor to an extracurricular club, etc.
High school transcript/grade report issued by the school (for applicants from the United Kingdom or Commonwealth countries, A level, O level, GCSE, or BTEC results are also acceptable)
Only applications completed by the deadline will be reviewed. Falsifying or plagiarizing any portion of your application is grounds for automatic disqualification.
For More Information:
Visit the Official Webpage of the Sony Music Group Global Scholars Program 2022
However, if you have any feelings regarding the Sony Music Group, Please kindly drop A COMMENT below and we will respond to it as soon as possible.
BE SOCIAL BY SHARING THIS POST WITH OTHERS!
CONNECT WITH US: Like our Facebook Page, Follow Us On Twitter, AND also Subscribe to Our Feed. Stayed Blessed!