Calls for Swedish Institute application 2020/2021 | Eligible and Interested applicants should submit their application now before the closing date.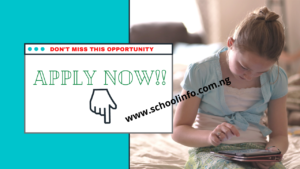 The Swedish Institute Scholarships Spring 2021 for Study in Swedish Universities application form, requirements, eligibility, application guidelines, application deadline, how to apply, closing date, and other opportunities links for Nigerians is published here on Schoolinfo.com.ng as well as on the official application portal/website.
Application Instruction:
Don't forget that the Swedish Institute application is totally free of charge.
Don't send anyone money for this opportunity.
Beware of Fraudsters!!!!
Subscribe to our notification list with your email to receive the Latest Opportunities Update.
Details of Swedish Institute.
Want to study in Sweden? Great news – you can now apply for a small number of programs that'll start spring 2021. And the deadline? You have until 17 August to apply. Sweden Universities Scholarships Spring 2021 is welcoming International students to apply for this Fully Funded Sweden Scholarship in Undergraduate Degree Program & Master Degree Program.
Full-Time Undergraduate degree in Sweden is a 4 years program.
Full-Time Graduate Degree Scholarship inn Sweden is not more than 2 years.
Scholarship will be provided to you for the entire duration of study in Sweden.
General entry requirements
So these are things like having completed your high-school studies. Or having a bachelor's degree. Also? Having a sufficient level of English. And you can find the general entry requirements for bachelor's programmes ↗️ and master's programmes ↗️ on Universityadmissions.se.
Programme-specific entry requirements
Application Procedure:
So you'll head on over to University admissions.se ↗️ – Sweden's central application portal. Applying for a master's?
You can apply for up to four programmes in the same application. And if you're applying for a bachelor's? You can apply for up to eight programmes.
What documents do I need to include?
Documentation proving that you meet the general entry requirements for bachelor's ↗️ or master's ↗️ programmes
Documentation showing that you meet programme-specific entry requirements
And for full details about your supporting documents, head on over to Universityadmissions.se.
Timeline
For More Information:
Visit the Official Webpage of the Sweden Scholarships Spring 2021
However, if you have any feelings regarding the Swedish Institute, Please kindly drop A COMMENT below and we will respond to it as soon as possible.
What's your take in this post? Please don't keep it to yourself;
BE SOCIAL BY SHARING THIS POST WITH OTHERS!
CONNECT WITH US: Like our Facebook Page, Follow Us On Twitter, AND also Subscribe to Our Feed. Stayed Blessed!
Tags: Swedish Institute Scholarships, Swedish Institute Scholarships 2021