Calls for Teach For Nigeria application 2022/2023 | Eligible and Interested applicants should submit their application now before the closing date.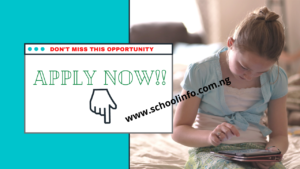 The Teach For Nigeria Fellowship 2022 for young Professionals application form, requirements, eligibility, application guidelines, application deadline, how to apply, closing date, and other opportunities links for Nigerians is published here on Schoolinfo.com.ng as well as on the official application portal/website.
Application Instruction:
Don't forget that the Teach For Nigeria application is totally free of charge.
Don't send anyone money for this opportunity.
Beware of Fraudsters!!!!
Subscribe to our notification list with your email to receive the Latest Opportunities Update.
Details of Teach For Nigeria.
The Teach For Nigeria Fellowship program is a two-year full-time paid commitment that is designed to build a movement of leaders who will work towards eliminating educational inequity in Nigeria.
The fellowship is an opportunity for Nigeria's most outstanding university graduates, young professionals and entrepreneurs from diverse academic backgrounds to serve as full-time teachers (Fellows) in under-resourced schools in low-income communities.
Through the six weeks of rigorous and extensive leadership development training, our fellows are well equipped with outcomes and strategies that will transform the educational trajectory of the students we serve.
As a Fellow, you will set targets and work towards ambitious goals that will put your students on a different life path. The experience will not only develop your leadership skills but also give you first-hand exposure to the educational crisis in our country. It will help you develop an awareness of the wider issues relating to educational inequity – and deepen your understanding of their potential solutions.
Benefits
As a Teach For Nigeria Fellow, you are a part of movement of young leaders working to eliminate educational inequity. In addition, these are some of the benefits of being a Fellow:
Opportunity to be part of a movement that is changing lives and that will change society
Extensive leadership development training
Intensive teacher training leading to a Postgraduate Diploma in Education
Real responsibility from day one
Job and internship opportunities during and post Fellowship
Opportunity to be a part of a global network of change agents from across 42 countries
Access to a 9 month Mentoring Programme, offering a unique opportunity to achieve professional and personal development
Access to professional development and network of supporters
Ongoing leadership development, coaching, business training and skills workshops
Opportunity to design and implement a social change project
A stipend for two years including during the school holidays.
About 9-10 weeks of holiday
The Fellowship Selection Process.
The Teach For Nigeria Fellowship is a highly competitive program that attracts applications from intending Fellows from different disciplines, institutions and backgrounds. Through the 3-staged process, we select the candidates with the highest potential to make a difference during and after the Fellowship.
Stage 1: The Application form
Your application will help us understand your experiences, your motivation to join the Teach For Nigeria fellowship and why you would be a strong fit for the Fellowship.
Stage 2; Online Test
If we find you a good fit for the fellowship through your application, you will proceed to the next phase and an invitation link will be sent to you to take an online test.
Stage 3; Assessment Center
If successful in your online test, we will invite you to the Assessment Centre, which is the final stage of our selection process. Here, you will be required to conduct a 5-minute micro-teaching, take part in a critical thinking test, a group activity, and one-on-interview with our assessors.
For More Information:
Visit the Official Webpage of the Teach For Nigeria Fellowship 2022
However, if you have any feelings regarding the Teach For Nigeria, Please kindly drop A COMMENT below and we will respond to it as soon as possible.
BE SOCIAL BY SHARING THIS POST WITH OTHERS!
CONNECT WITH US: Like our Facebook Page, Follow Us On Twitter, AND also Subscribe to Our Feed. Stayed Blessed!
Tags: Teach For Nigeria, Teach For Nigeria Fellowship, Teach For Nigeria Fellowship program