Calls for TechGirls Program application 2021/2022 | Eligible and Interested applicants should submit their application now before the closing date.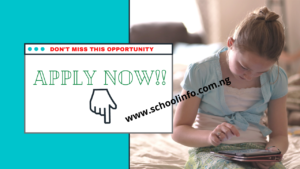 The U.S. Department of State's TechGirls Program 2021 (Fully-funded to the U.S.)
application form, requirements, eligibility, application guidelines, application deadline, how to apply, closing date, and other opportunities links for Nigerians is published here on Schoolinfo.com.ng as well as on the official application portal/website.
Application Instruction:
Don't forget that the TechGirls application is totally free of charge.
Don't send anyone money for this opportunity.
Beware of Fraudsters!!!!
Subscribe to our notification list with your email to receive the Latest Opportunities Update.
Details of TechGirls Program.
Applications are open for the U.S. Department of State's TechGirls Program 2021. TechGirls connects and supports the next generation of women leaders in science, technology, engineering, and mathematics by providing them  access and opportunities to advance their skills and pursue their dreams.
The core of the program is a three-week experience in the United States.  TechGirls participate in an interactive technology and computer camp (with US Girls), join a tech company for a day of job shadowing, and participate in community service initiatives.
The TechGirls programming yields a multiplier effect – as the benefits of the exchange accrue not only to the TechGirls themselves, but multiply out to the wider community.
The Experience
As a TechGirl, you commit to 8 months of leadership training and join an alumni network of TechWomen and TechGirls that will support you as you plan your higher education, careers and community based projects.
TechGirls will:
Challenge themselves with new questions and concepts.
Learn coding and tech skills from enthusiastic university professors
Network with influential industry leaders.
Discover their own innovative leadership style.
Create meaningful friendships with young women from all over the MENA region and the USA.
Explore the diverse communities of Washington, D.C. and southwest Virginia.
Inspire the next generation of women and girls in their home countries.
Your U.S. program begins with group international travel with your fellow participants from your country with a flight escort. Meeting all the other young women selected from across your region is the first inspiring element to the program.
Cost
The TechGirls program covers the following costs:
Visa Fee
Roundtrip international airfare from participant home country to the United States
Housing during program
Meals during program
Local transportation to group program events
Cultural events organized by Legacy International
Emergency health insurance
Eligibility
Open to girls from one of the following eligible countries:

United States
Algeria, Egypt, Jordan, Lebanon, Morocco, Palestinian Territories, and Tunisia;
 Kazakhstan, Kyrgyzstan, Tajikistan, and Uzbekistan

Are between the ages of 15 and 17 at the start of the exchange in July 2021;
Have demonstrated advanced skills and a serious interest in technology, engineering, and/or math in their academic studies;
Intend to pursue higher education and/or careers in technology;
Have strong English language skills;
Exhibit maturity, flexibility, and open-mindedness;
Will attend at least one additional semester of secondary school upon their return to their home country; and
Are committed to completing a community-based project upon their return home.
Preference will be given to those who have limited or no prior experience in the United States. You are not eligible if you have travelled to the United States in the last three years as part of any other ECA exchange program.
For more information, visit TechGirls.
However, if you have any feelings regarding the TechGirls, Please kindly drop A COMMENT below and we will respond to it as soon as possible.
BE SOCIAL BY SHARING THIS POST WITH OTHERS!
CONNECT WITH US: Like our Facebook Page, Follow Us On Twitter, AND also Subscribe to Our Feed. Stayed Blessed!