Calls for TechWomen Emerging Leaders application 2022/2023 | Eligible and Interested applicants should submit their application now before the closing date.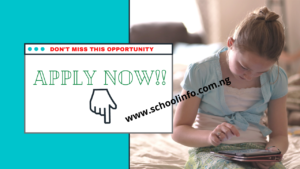 The TechWomen Fall 2022 Emerging Leaders Program for Women in STEM to study in the United States of America (Fully Funded) application form, requirements, eligibility, application guidelines, application deadline, how to apply, closing date, and other opportunities links for Nigerians is published here on Schoolinfo.com.ng as well as on the official application portal/website.
Application Instruction:
Don't forget that the TechWomen Emerging Leaders application is totally free of charge.
Don't send anyone money for this opportunity.
Beware of Fraudsters!!!!
Subscribe to our notification list with your email to receive the Latest Opportunities Update.
Details of TechWomen Emerging Leaders.
TechWomen aims to empower, connect and support the next generation of women leaders in science, technology, engineering, and mathematics (STEM) by providing them access and opportunity to advance their careers, pursue their dreams, and become role models for women and girls in their communities. TechWomen supports the United States' global commitment toward advancing the rights and participation of women and girls around the world by enabling them to reach their full potential in the tech industry.
TechWomen brings emerging women leaders in science, technology, engineering, and mathematics (STEM) from Africa, Central and South Asia, and the Middle East together with their professional counterparts in the United States for a mentorship and exchange program. TechWomen provides participants access to networks, resources, and knowledge to empower them to reach their full potential.
During the five-week program, participants engage in project-based mentorships at leading companies in the San Francisco Bay Area, participate in professional development workshops and networking events, and travel to Washington, DC. for targeted meetings and special events to conclude the program.
For More Information:
Visit the Official Webpage of the U.S Government Fall 2022 TechWomen Emerging Leaders Program
However, if you have any feelings regarding the TechWomen Emerging Leaders, Please kindly drop A COMMENT below and we will respond to it as soon as possible.
BE SOCIAL BY SHARING THIS POST WITH OTHERS!
CONNECT WITH US: Like our Facebook Page, Follow Us On Twitter, AND also Subscribe to Our Feed. Stayed Blessed!
Tags: TechWomen Emerging, TechWomen Emerging Leaders Program, TechWomen Fall 2022 Emerging Leaders Program for Women in STEM to study in the United States of America (Fully Funded)