Calls for UNFPA Youth Leaders (YoLe) Fellowship application 2020/2021 | Eligible and Interested applicants should submit their application now before the closing date.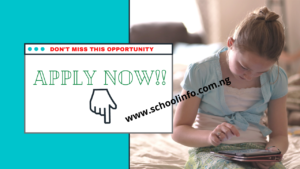 The UNFPA Youth Leaders (YoLe) Fellowship Program 2020/2021 for young Ghanaians application form, requirements, eligibility, application guidelines, application deadline, how to apply, closing date, and other opportunities links for Nigerians is published here on Schoolinfo.com.ng as well as on the official application portal/website.
Application Instruction:
Don't forget that the UNFPA Youth Leaders application is totally free of charge.
Don't send anyone money for this opportunity.
Beware of Fraudsters!!!!
Subscribe to our notification list with your email to receive the Latest Opportunities Update.
Details of UNFPA Youth Leaders.
The YoLe Fellowship is a year-long programme designed to integrate young people into the UN system by empowering them in UNFPA's areas of interest, while providing Fellows with opportunities for professional development and training in driving health-innovation.
Selected candidates will undertake over 230 hours of training on capacity and skill building; Professional and Career Development, Health Innovation, Coding (Web application/Web Design) and Entrepreneurship.
Furthermore, selected candidates will be taken through professionally coordinated sessions covering areas such as Research, Reporting, Conferencing And Logistics Planning, Proposal and Concept Note Writing, Social Media and Networking, Business Model Canvas Development, Data Visualization and Presentation, Human-Centred Design and Tech Innovations in the COVID-19 era, Gender Equity in Innovation, as well as Data-Driven Decision Making.
Eligibility:
·       Must demonstrate a passion to make a difference in your community; specifically, demonstrate interest and dedication to development issues established through either volunteer experience, work experience, affiliations with a youth network or NGO, in areas of UNFPA's mandate. (see http://www.unfpa.org/about-us)
·       Must be aged between 18 – 26 years
·       Must be a graduate of a tertiary institution in Ghana
·       Must commit one year to being a UNFPA Youth Leaders Fellow
·       Must be proactive and possess strong interpersonal skills
·       Must possess a working knowledge of English—an important prerequisite for participation in the program for general communication purposes. All application materials must be submitted in English.
If you meet all these criteria, then the United Nations Population Fund (UNFPA) invites you to apply for the third edition of the Youth Leaders (YoLe) Fellowship Programme (January 2021 – December 2021)!
Selection Process:
Selection will be based on demonstrated engagement or interest in the advancement of the rights of youth, a desire to network with others, and a clear explanation of how the Fellowship will benefit their own efforts for advancing human rights as defined by UNFPA's mandate.
*The YoLe Fellows are expected to work full-time at the UNFPA Ghana Country Office in Accra, Ghana. Fellows may not be otherwise engaged during the fellowship.
Application Process:
Interested applicants should submit:
1.     A statement, not more than one page, explaining their professional goals and ambitions
2.     C.V./Resume
All application materials should be sent to applications.yole@unfpa.org no later than 26th October, 2020. Please use the subject line: Youth Leaders Fellowship Programme.
·       No late applications will be accepted.
·       Only shortlisted candidates will be contacted, and invited for further interviews/assessments.
For More Information:
Visit the Official Webpage of the UNFPA Youth Leaders (YoLe) Fellowship Program 2020
However, if you have any feelings regarding the UNFPA Youth Leaders, Please kindly drop A COMMENT below and we will respond to it as soon as possible.
BE SOCIAL BY SHARING THIS POST WITH OTHERS!
CONNECT WITH US: Like our Facebook Page, Follow Us On Twitter, AND also Subscribe to Our Feed. Stayed Blessed!
Tags: UNFPA Youth Leaders Fellowship, UNFPA Youth Leaders Fellowship 2021