Calls for University of Southern California (USC) Center for Health Journalism Data Fellowship application 2021/2022 | Eligible and Interested applicants should submit their application now before the closing date.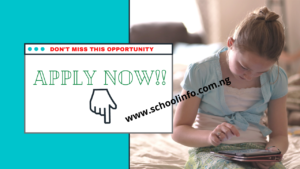 The University of Southern California (USC) Center for Health Journalism Data Fellowship 2020 for Journalists in the U.S. (Funded)
application form, requirements, eligibility, application guidelines, application deadline, how to apply, closing date, and other opportunities links for Nigerians is published here on Schoolinfo.com.ng as well as on the official application portal/website.
Application Instruction:
Don't forget that the University of Southern California application is totally free of charge.
Don't send anyone money for this opportunity.
Beware of Fraudsters!!!!
Subscribe to our notification list with your email to receive the Latest Opportunities Update.
Details of University of Southern California.
Applications are open for the University of Southern California (USC) Center for Health Journalism Data Fellowship 2020/2021. The Center for Health Journalism Data Fellowship is designed for skilled journalists who want to learn to mine data sources to reveal key insights essential to high-impact journalism.
The program offers professional reporters an opportunity to learn to acquire, analyze and produce visualizations of data that can help their audiences understand key health and child welfare developments. Fellows  can be beat reporters focused on health, education or children's issues or general assignment reporters with a demonstrated interest in reporting on these themes.
Data Fellows receive five days of intensive training on data acquisition, cleaning, analysis and visualization, as well as an introduction to important data sets that can serve as the basis for groundbreaking journalism.
They hear from leading data journalism experts about how to make successful Freedom of Information Act (FOIA) requests and gain insights on how to pair original data analysis with compelling narratives.
Benefits
Knowledge and Skills: Fellows will receive intensive training in data acquisition, cleansing, analysis and visualization techniques from some of the best data journalists in the country. Fellows will gain insights into how to document health and demographic trends in their local communities.
Financial Support and Mentoring: Fellows will receive grants of $2,000 – $10,000 to use for reporting and data acquisition costs. Veteran data journalists will provide one-on-one mentoring for six months while Fellows work on substantive investigative or explanatory reporting projects. Up to three Data Fellows from California may receive supplemental grants of $1,000 to $2,000 for community engagement, as well as specialized mentoring on community engagement.
Eligibility
Applicants must demonstrate a minimal skill level in Excel or take an online course on Excel. Since the Fellowship is highly interactive, Fellows must have access to a computer and pre-load it with the Excel and Tableau software that will be used during the training. (If you don't already have this software, we will provide advice about how you can get it for free.)
They prefer that applicants have a minimum of three years of professional experience; many Fellows have decades.
Journalists writing for ethnic media are strongly encouraged to apply.
Proposals for collaborative projects between mainstream and ethnic news outlets receive preference, as do projects produced for co-publication or co-broadcast in both mainstream and ethnic news outlets.
Freelancers who apply should earn the majority of their income from journalism. Students and interns are ineligible.
Application
The application asks for the following:
Personal Statement (Including Project Proposal)
Use 500 words to tell them who you are. Describe your reporting experience and aspirations and why you are interested in attending the Fellowship.
Think of the project proposal as a pitch. The more detail you provide, the better.
Three Samples of Your Work: Submit three samples of your best work. (For work that has only appeared online, please provide working URLs, as well as Word documents or PDFs of the published stories.) Broadcasters should submit links to working URLs of their online stories or CDs/DVDs.
Resumé: Please include a current resumé. Note: Any misrepresentation that is discovered after you are admitted to the Fellowship will result in your dismissal.
Editor/Story Checklist (download pdf) or Word document: Download it, complete it, get your assigning editor's signature on it, and scan it into your computer to submit with your online application or FAX it to them at (877) 413-3873. Both freelance and employed journalists must submit written confirmation of a news organization's commitment to publish or air the work resulting from the Fellowship, assuming the work meets its standards.
Letter of Reference: Please supply a letter of reference from your assigning editor, producer, or news director that discusses your abilities and potential as a journalist in detail and the newsroom's support for your project. The letter should also confirm the following:

That you have discussed your proposed stories with your supervisor or assigning editor. Please tell us why they are important to the news outlet.
That the news organization expects to publish or air your stories, assuming they meet its standards
That your employer will permit you to attend all Fellowship sessions (disregard if you're a freelancer)

Data Experience Survey: Complete here.
Applicants must join CenterforHealthJournalism.org and post a profile and photo.
For more information, visit University of Southern California.
However, if you have any feelings regarding the University of Southern California, Please kindly drop A COMMENT below and we will respond to it as soon as possible.
BE SOCIAL BY SHARING THIS POST WITH OTHERS!
CONNECT WITH US: Like our Facebook Page, Follow Us On Twitter, AND also Subscribe to Our Feed. Stayed Blessed!
Tags: University of Southern California (USC) Center for Health Journalism Data Fellowship