Calls for UNWTO Global Rural Tourism Startup Competition application 2021/2022 | Eligible and Interested applicants should submit their application now before the closing date.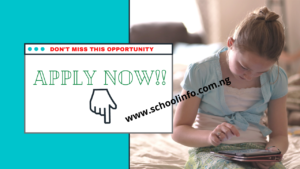 The  application form, requirements, eligibility, application guidelines, application deadline, how to apply, closing date, and other opportunities links for Nigerians is published here on Schoolinfo.com.ng as well as on the official application portal/website.
Application Instruction:
Don't forget that the World Tourism Organization (UNWTO) application is totally free of charge.
Don't send anyone money for this opportunity.
Beware of Fraudsters!!!!
Subscribe to our notification list with your email to receive the Latest Opportunities Update.
Details of World Tourism Organization (UNWTO).
The World Tourism Organization (UNWTO) has launched a new competition to identify the best ideas that will help rural communities recover from the impacts of the COVID-19 pandemic. The Global Rural Tourism Startup Competition will also support the entrepreneurs and enterprises that can help rural communities seize the economic and social opportunities that will come as tourism restarts.
The United Nations specialized agency has recorded rising interest in unique and authentic travel experiences, including in nature-based and outdoors tourism. With this trend expected to accelerate as tourism restarts, the Startup Competition is looking for those ideas that will help ensure rural communities are best-placed to benefit. The competition will also look for ideas that will help build resilience in rural communities.
The Competition aims to support rural tourism as a key tool to fight depopulation, promote inclusion and reduce regional inequalities in income and development as part of UNWTO's special focus on tourism for rural development.
Applications are now open for four categories:
People –Leaving no one behind: Projects that incentivize the creation of jobs and opportunities, promote gender and youth empowerment, and build opportunities for vulnerable groups in rural areas.
Planet – Building back better Projects related to the promotion and protection of natural resources, including addressing tourism's impact on climate change, we as well as waste and resource consumption.
Prosperity- opportunities for growth Startups that provide innovative solutions through new business models, instruments that promote access to finance, markets and marketing for tourism in rural areas.
Propulsion of Rural Tech – Implementation of new technologies to advance tourism and development in rural areas.
BENEFITS
Mentoring by UNWTO and top partners
Tailored support for your startup
Investment opportunities
Form part of the UNWTO Innovation Network
Form part of the UNWTO Best Tourism Villages of the World Pilot Initiative
Scholarship opportunities for the Tourism Online Academy
Opportunity to present your startup at the 14th UNWTO General Assembly in Marrakech Morocco
THE CHALLENGE
Closer
Domestic tourism has shown positive signs in many markets since people tend to travel closer. Travellers go for 'staycations' or vacations close to home.New concerns
Health & Safety measures and cancellation policies are consumers' main concerns.Get away
Nature, Rural Tourism and Road Trips have emerged as popular travel choices due to travel limitations and the quest for open-air experiences.Last minute
Last-minute bookings have increased due to volatility of pandemic-related events and the travel restrictions.Younger travellers most resilient
Change in demographics:
travel recovery has been stronger among younger segments. 'Mature' travellers and retirees will be the most impacted segments. More responsible
Sustainability, authenticity and localhood:
travellers have been giving more importance to creating a positive impact on local communities, increasing looking for authenticity.
For More Information:
Visit the Official Webpage of the UNWTO Global Rural Tourism Startup Competition 2021
However, if you have any feelings regarding the World Tourism Organization (UNWTO), Please kindly drop A COMMENT below and we will respond to it as soon as possible.
BE SOCIAL BY SHARING THIS POST WITH OTHERS!
CONNECT WITH US: Like our Facebook Page, Follow Us On Twitter, AND also Subscribe to Our Feed. Stayed Blessed!