Calls for Varkey Foundation Global application 2021/2022 | Eligible and Interested applicants should submit their application now before the closing date.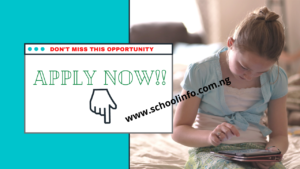 The  application form, requirements, eligibility, application guidelines, application deadline, how to apply, closing date, and other opportunities links for Nigerians is published here on Schoolinfo.com.ng as well as on the official application portal/website.
Application Instruction:
Don't forget that the Varkey Foundation Global application is totally free of charge.
Don't send anyone money for this opportunity.
Beware of Fraudsters!!!!
Subscribe to our notification list with your email to receive the Latest Opportunities Update.
Details of Varkey Foundation Global.
Applications for the Varkey Foundation Global Teacher Prize 2021 are now open. The Global Teacher Prize is a US $1 million award presented annually to an exceptional teacher who has made an outstanding contribution to their profession.
The Global Teacher Prize serves to underline the importance of educators and the fact that, throughout the world, their efforts deserve to be recognised and celebrated. It seeks to acknowledge the impacts of the very best teachers – not only on their students but on the communities around them.
Prize
A US $1 million award is presented to the winner. The prize money will be paid in equal annual installments over a period of ten years.
Eligibility
Open to currently working teachers who teach children that are in compulsory schooling, or are between the ages of five and eighteen.
Teachers who teach children age 4+ in an Early Years government-recognised curriculum are also eligible, as are teachers who teach on a part-time basis, and teachers of online courses.
Teachers must spend at least 10 hours per week teaching children face-to-face, and plan to remain in the teaching profession for the next 5 years.
The Prize is open to teachers in every kind of school and, subject to local laws, in every country in the world.
Judging Criteria
Applicants for the Global Teacher Prize will be judged on a rigorous set of criteria to identify an extraordinary teacher who has made an outstanding contribution to the profession. The Academy will look for evidence of a combination of:
Employing effective instructional practices that are replicable and scalable to influence the quality of education globally.
Employing innovative instructional practices that address the particular challenges of the school, community or country and which have shown sufficient evidence to suggest they could be effective in addressing such challenges in a new way.
Achieving demonstrable student learning outcomes in the classroom.
Impact in the community beyond the classroom that provide unique and distinguished models of excellence for the teaching profession and others.
Helping children become global citizens through providing them with a values-based education that equips them for a world where they will potentially live, work and socialise with people from many different nationalities, cultures and religions.
Improving the teaching profession through helping to raise the bar of teaching, sharing best practice, and helping colleagues overcome any challenges they face in their school.
Teacher recognition from governments, national teaching organisations, head-teachers, colleagues, members of the wider community or pupils.
Application
They will only accept online applications – applications submitted via post or email will not be considered. Applications will close on April 30, 2021.
For more information, visit Global Teacher Prize.
However, if you have any feelings regarding the Varkey Foundation Global, Please kindly drop A COMMENT below and we will respond to it as soon as possible.
BE SOCIAL BY SHARING THIS POST WITH OTHERS!
CONNECT WITH US: Like our Facebook Page, Follow Us On Twitter, AND also Subscribe to Our Feed. Stayed Blessed!
Tags: Varkey Foundation Global Teacher Prize, Varkey Foundation Global Teacher Prize 2021/2022