Call for Nominations application 2020/2021 | Eligible and Interested applicants should submit their application now before the closing date.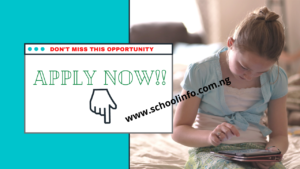 The Call for Nominations: World Federation of United Nations (WFUNA) Young Leader of the Year Award 2020/2021 application form, requirements, eligibility, application guidelines, application deadline, how to apply, closing date, and other opportunities links for Nigerians is published here on Schoolinfo.com.ng as well as on the official application portal/website.
Application Instruction:
Don't forget that the WFUNA application is totally free of charge.
Don't send anyone money for this opportunity.
Beware of Fraudsters!!!!
Subscribe to our notification list with your email to receive the Latest Opportunities Update.
Details of WFUNA.
Application Deadline: September 20th 2020
WFUNA supports and encourages youth engagement and participation in the United Nations Associations and United Nations Youth Associations around the world through the WFUNA Youth Network. With this initiative, we want to highlight the contributions of thousands of young people to our organization and share their achievements with a wider audience. In commemoration of International Youth Day 2020, we are launching a call for nominations for WFUNA Young Leader of the Year.
How does it work?
Every year, WFUNA sets a theme and calls for nominations for young people from the WFUNA Youth Network working within that theme. From the nominations, the WFUNA Secretary-General and WFUNA Youth Advisory Council select three young leaders to be interviewed. After each nominee is interviewed, a final candidate will be selected as the WFUNA Young Leader of the Year.  
Requirements
A WFUNA Young Leader of the Year has to be able to inspire other youth looking to get involved in global issues.
An ideal candidate shows:
Inspirational Leadership
Grassroots work on the theme of the year
Integrity and commitment towards improving the lives of others
In addition, the WFUNA Young Leader of the Year is:
Between 15-29 years old
A member of a United Nations Association or United Nations Youth Association
Theme
The WFUNA Young Leader of 2020 theme is focused on highlighting the role young people play in responding to the COVID-19 pandemic and marking the 75th Anniversary of the United Nations amid a moment of uncertainty for the entire world.
The challenges are widespread starting from the most immediate health implications to the long term effects to the economy and social structures. With the Sustainable Development Goals to be met in 2030, our response and action as a society will mark the difference in whether we favor unilateralism or multilateralism to respond to global challenges.
WFUNA encourage nominations of young people that are working to:
Participate actively in efforts to respond to the pandemic, either as frontline workers or through indirect support;
Contribute to challenging negative stereotypes associated with young people seen as spoilers to an effective response;
Find creative and innovative solutions to continue implementing youth programs amidst challenges posed by COVID-19;
Make upholding human rights central to recovery plans;
Strengthen solidarity and cooperation between peoples and nations.
Apart from being able to state proudly that you have been selected as WFUNA Young Leader of 2020, you might be able to:
Participate in WFUNA's awareness raising campaigns and advocacy efforts
Engage in panel discussions, workshops, training sessions facilitated by WFUNA
Free participation in WFUNA's programs, such as the Human Rights Youth Training in Geneva, WIMUN, Mission Possible, etc.
Timeline
August 12 – WFUNA Young Leader of the Year call launches
September 20 – Application closes (deadline)
October 16 – Selection is made by WFUNA Secretary-General and WFUNA Youth Advisory Council
October 26 – WFUNA Young Leader of the Year is announced
For More Information:
Visit the Official Webpage of the WFUNA Young Leader of the Year Award 2020
However, if you have any feelings regarding the WFUNA, Please kindly drop A COMMENT below and we will respond to it as soon as possible.
What's your take in this post? Please don't keep it to yourself;
BE SOCIAL BY SHARING THIS POST WITH OTHERS!
CONNECT WITH US: Like our Facebook Page, Follow Us On Twitter, AND also Subscribe to Our Feed. Stayed Blessed!
Tags: WFUNA Award, WFUNA Award 2021