Calls for WFP Innovation Accelerator application 2022/2023 | Eligible and Interested applicants should submit their application now before the closing date.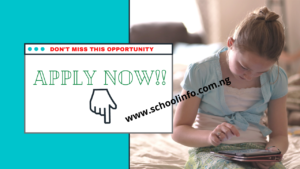 The World Food Programme (WFP) Innovation Challenge 2022 for Solutions to Hunger (USD $100,000 in equity-free funding) application form, requirements, eligibility, application guidelines, application deadline, how to apply, closing date, and other opportunities links for Nigerians is published here on Schoolinfo.com.ng as well as on the official application portal/website.
Application Instruction:
Don't forget that the WFP Innovation Accelerator application is totally free of charge.
Don't send anyone money for this opportunity.
Beware of Fraudsters!!!!
Subscribe to our notification list with your email to receive the Latest Opportunities Update.
Details of WFP Innovation Accelerator.
The United Nations World Food Programme (WFP) Innovation Accelerator sources, supports and scales bold new solutions to disrupt global hunger and achieve the Sustainable Development Goals. For this year's challenges WFP are looking for disruptive innovations for fighting hunger in areas such as resilience to shocks and stress, climate change, access to safe and nutritious food, and advancing equitable livelihoods for all.
Eligibility Criteria
Applications will be scored according to a standard set of criteria* set by the WFP Innovation Accelerator, including:
● Alignment with WFP priorities and the impact towards the Sustainable Development Goal 2: Zero Hunger.
● The level of innovation the solution brings to WFP and the humanitarian sector at large.
● Indicators that the solution can be feasibly integrated and financed in the long-term, including the team qualifications.
Benefits
Selected teams will be invited to participate in a fully virtual WFP Innovation Bootcamp in June 2022 for a week.
● Projects are able to apply for the WFP Sprint Programme, a six-month acceleration programme with access of up to US$ 100,000 in equity-free funding, mentorship, and WFP's global network of partners and vast field operations.
● Scaling innovations that have proven their concepts and value for social impact may qualify for further funding and support.
● The WFP Innovation Accelerator has a track record of organizing 40 flagship innovation bootcamps, supporting over 387 teams to rapidly refine their innovations, field testing over 100 projects within WFP operations, and bringing 16 disruptive innovations to scale, reaching more than 8.6 million people in 2021 alone.
Application Process
To submit your application, please fill in the Application Form before 6 April 2022 11:59 pm (CET).
If you know a relevant project for us to consider, please let us know by filling out this Referral Submission Form.
WFP will review and match successful applications with one of our WFP Innovation Bootcamps in the next six months. The next Innovation Bootcamp is scheduled for June 2022 and will be held virtually amid COVID-19 travel restrictions. WFP value all applications, however, we are only able to contact shortlisted applicants.
Interested but don't feel your idea is ready yet? Don't let this stop you! We accept applications on a rolling basis throughout the year, and applications received past this deadline may still be considered for future programs in 2022.
For more information, see the Frequently Asked Questions.
For More Information:
Visit the Official Webpage of the WFP Innovation Accelerator 2022
However, if you have any feelings regarding the WFP Innovation Accelerator, Please kindly drop A COMMENT below and we will respond to it as soon as possible.
BE SOCIAL BY SHARING THIS POST WITH OTHERS!
CONNECT WITH US: Like our Facebook Page, Follow Us On Twitter, AND also Subscribe to Our Feed. Stayed Blessed!
Tags: 000 in equity-free funding), WFP Innovation Accelerator, World Food Programme (WFP) Innovation Challenge 2022 for Solutions to Hunger (USD $100