Calls for ARCUS Project's artist-in-residence program application 2021/2022 | Eligible and Interested applicants should submit their application now before the closing date.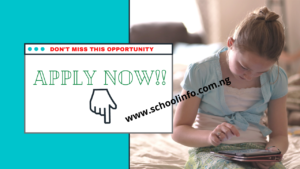 The Arcus Project Ibaraki Artist-In-Residence Program for emerging artists (Fully Funded to Japan) application form, requirements, eligibility, application guidelines, application deadline, how to apply, closing date, and other opportunities links for Nigerians is published here on Schoolinfo.com.ng as well as on the official application portal/website.
Application Instruction:
Don't forget that the Arcus Project application is totally free of charge.
Don't send anyone money for this opportunity.
Beware of Fraudsters!!!!
Subscribe to our notification list with your email to receive the Latest Opportunities Update.
Details of Arcus Project.
ARCUS Project's artist-in-residence program provides opportunities for emerging artists in the field of contemporary art to cultivate their artistic creativity and vision. Located around an hour from Tokyo, a residency at ARCUS Studio allows participants in the program to come into contact with the contemporary art scene in Japan as well as devote themselves to their creative endeavors in a calm environment while interacting with the local community. Through the support the program offers from its dedicated team of coordinators and regular tutorials with a curator, artists are able to search for and explore approaches in their practices and undertake new challenges in their artistic expression.
The program particularly emphasizes research-based practices and presents the initial results of these processes at open studios. It welcomes ideas for artworks and projects that develop out of encounters with people, the land, and culture, and aspire to form critical spaces that are open and international.
Program period: September 2–December 10, 2021 (100 days)
Due to the ongoing coronavirus pandemic, the above schedule is subject to change.
Eligibility
The applicant must:
— be an emerging artist engaged in contemporary visual arts or other related fields.
— possess a nationality other than Japanese.
— be resident outside Japan and able to enter Japan legally.
— not be enrolled at an educational institution during the program period unless it is a PhD program.
— be in a state of good health and able to carry out daily activities on his/her own.
— have an English-language ability proficient enough to communicate with other artists and staff.
Benefits
Each artist is provided with the following support during the program period:
A.Studio
1 room (9 m [W] × 7.5 m [D] × 3.3 m [H], 67.5 m2) divided in half and shared with another artist. The studio has air conditioning and an internet connection. An artist is required to bring/prepare the specific tools, equipment, computer, and software necessary for his/her artistic activities. Although minimum tools (e.g. drill, screwdriver, hammer, and saw, etc.) are available, studios are not equipped with professional facilities such as a workshop, studio for shooting, or editing room. ARCUS Studio also cannot provide an SLR camera, video camera, tripod, or monitor/projector.
B.Accommodation
Each artist is provided with a furnished studio-style apartment that includes basic electric appliances near ARCUS Studio. The artist's partner is allowed to accompany him/her. However, the artist is solely responsible for a partner's expenses as well as safety. Please be aware that accommodation provided by ARCUS Project is only for single occupants.
C.Equipment
A bicycle is provided for each artist.
D.Transportation fee
Artists from overseas: Round-trip (economy class) airfare from the international airport nearest his/her home to Narita International Airport or Tokyo International Airport is provided.
E. Allowance
The artist is provided with 180,000 yen for living and other basic expenses and 450,000 yen for expenses related to any kind of his/her artistic activities. In total, 630,000 yen is provided for the 100-day program period.
The allowance:
— is confirmed at the time of invitation
— is directly handed to the artist.
— is paid in 3 installments on the designated date.
How to Apply
Please download the Application Guidelines from ARCUS Project website (http://www.arcus-project.com/en/residence/), and follow the procedure.
You will receive an automated confirmation email and the URL for the application page.
There are three steps in the online application process:
Step 1 Upload and send personal information, statement, and essay.
Step 2 Upload JPEG images of your artworks and PDFs of your CV and ID (a copy of passport or identification with a photograph) according to the instructions on the application page. If you wish to provide information on video/sound works, download the optional video description form from our website and fill out the required information. Then upload it as a PDF.
Step 3 Pay the ¥3,000 application fee using the PayPal link in the automated confirmation email. If PayPal does not work in the country/area where you live, please contact the ARCUS Studio (arcus@arcus-project.com) for an alternative payment method. Please be sure to complete payment of the application fee by the deadline. Failure to do so will mean your application is void and not accepted for screening, even if you have submitted the application materials.
For More Information:
Visit the Official Webpage of the Arcus Project 2021 Ibaraki Artist-In-Residence Program
However, if you have any feelings regarding the Arcus Project, Please kindly drop A COMMENT below and we will respond to it as soon as possible.
BE SOCIAL BY SHARING THIS POST WITH OTHERS!
CONNECT WITH US: Like our Facebook Page, Follow Us On Twitter, AND also Subscribe to Our Feed. Stayed Blessed!