Calls for African Civic Engagement Academy application 2022/2023 | Eligible and Interested applicants should submit their application now before the closing date.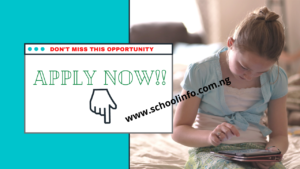 The African Civic Engagement Academy (ACEA) 2022/2023 application form, requirements, eligibility, application guidelines, application deadline, how to apply, closing date, and other opportunities links for Nigerians is published here on Schoolinfo.com.ng as well as on the official application portal/website.
Application Instruction:
Don't forget that the ACEA application is totally free of charge.
Don't send anyone money for this opportunity.
Beware of Fraudsters!!!!
Subscribe to our notification list with your email to receive the Latest Opportunities Update.
Details of African Civic Engagement Academy.
Applications for the African Civic Engagement Academy (ACEA) 2022/2023 are now open. The African Civic Engagement Academy (ACEA) is a free online training program and networking opportunity offered to selected mid-career NGO and public sector leaders across sub-Saharan Africa.
Selected participants will receive online instruction and participate in peer discussions organized into three short courses:
Principles of Civic Engagement, including strategies for NGO, non-profit, and government sector leaders to advocate and engage with one another.
Political Inclusion, covering steps that can be taken to improve the political and social inclusion of underrepresented communities.
Media Management, including the role of old and new media as a bridge between government and civil society.
Participants will also be exposed to leadership development and strategic planning concepts. All participants will develop a peer-mentored Civic Engagement Action Plan, where they identify steps to bring a civic engagement project to life in their community or government unit.
Benefits
Participants who successfully complete the ACEA coursework and submit a Civic Engagement Action Plan will receive a Certificate of Completion from the University of Georgia which may be displayed as a digital badge. Chartered in 1785, the University of Georgia is the oldest state-chartered public institution in the United States and is home to over 38,000 undergraduate and graduate students.
Eligibility
Participants will:
Be between the ages of 30 and 45 as of January 1, 2022.
Serve in a leadership role with a civil society organization (including NGOs and non-profit community organizations) or a government unit responsible for engaging with the public.
Have a demonstrated record of leading civic engagement efforts, including projects and programs to advocate, engage, and communicate in an inclusive way.
Application
All applications must be submitted https://bit.ly/2Lgx0pz at 5pm GMT.
For more information, visit ACEA.
However, if you have any feelings regarding the ACEA, Please kindly drop A COMMENT below and we will respond to it as soon as possible.
BE SOCIAL BY SHARING THIS POST WITH OTHERS!
CONNECT WITH US: Like our Facebook Page, Follow Us On Twitter, AND also Subscribe to Our Feed. Stayed Blessed!
Tags: African Civic Engagement Academy, Call for African Civic Engagement Academy