Calls for Catholic Relief Services application 2021/2022 | Eligible and Interested applicants should submit their application now before the closing date.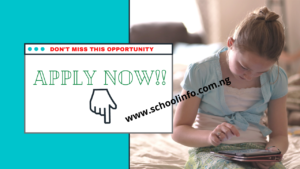 The FTF IAA SILC Field Agent Supervisor application form, requirements, eligibility, application guidelines, application deadline, how to apply, closing date, and other opportunities links for Nigerians is published here on Schoolinfo.com.ng as well as on the official application portal/website.
Application Instruction:
Don't forget that the Catholic Relief Services application is totally free of charge.
Don't send anyone money for this opportunity.
Beware of Fraudsters!!!!
Subscribe to our notification list with your email to receive the Latest Opportunities Update.
Details of Catholic Relief Services.
Catholic Relief Services (CRS) is an international non-governmental organization supporting relief and development work in more than 100 countries around the world. CRS programs assist persons based on need, regardless of creed, ethnicity, or nationality. Catholic Relief Services began working in Nigeria in the 1960s and was active during the 1967 civil war in the area of emergency response. After the war, the Nigerian government asked CRS and other international development agencies to leave the country. Thirty years later, with the return of democracy after years of military rule, CRS returned to Nigeria in 2000 at the invitation of the Catholic Bishops Conference of Nigeria. In partnership with the Catholic Church, other faith-based and community-based organizations, the private sector, local and international NGOs, and government institutions, CRS implements a range of complex programs with support from a variety of donors and private funds. CRS operations in Nigeria are undertaken through local organizations in agriculture, emergency response, orphans and vulnerable children, health, HIV, governance and peace building. CRS has worked in 34 of the country's 36 states, demonstrating the agency's extensive grassroots networks and tremendous capacity to reach the rural poor.
Catholic Relief Services (CRS) partnered with International Institute for Tropical Agriculture (IITA) and International Crops Research Institute for the Semi-Arid Tropics (ICRISAT) to implement Feed the Future Nigeria Integrated Agriculture Activity in Borno and Adamawa States. CRS is co-implementing project activities in Song, Fufore, Yola South, Demsa, Guyuk, Hong, Gombi Local Government Areas (LGAs) in Adamawa State and Biu, Hawul, Kwaya Kusar, Shani and Bayo LGAs in Borno State to advance the objectives of inclusive and sustainable agriculture-led economic growth; strengthening resilience among people and systems; and well-nourished population, especially among women and children.
To meet the Activity set objectives CRS is using Savings and Internal Lending Communities (SILC) to provide informal financial services to the vulnerable smallholder farmers/households. CRS intends to achieve this through trained/mentored Field Agents with the broad aim to strengthen the institutions that form the market system and the networks that serve smallholder farmers disenfranchised by conflict. SILC will also contribute by supporting vulnerable households to diversify their agricultural productivity and marketing. Hence, smallholder farmers/enterprise groups will be supported to develop SILC as a financial service strategy for the program in Adamawa state and Southern part of Borno State.
The Activity seeks to engage the services of SILC Field Agent Supervisors who will be responsible for marketing & promoting the SILC methodology in their respective community, supervising the SILC Field Agents and ensuring the quality of the SILC groups they formed meet program quality standard; developing FA skills and certifying them as PSPs; overseeing their work as PSPs and organizing them into networks.
Specific Deliverables
Promote the project and the PSP-SILC to community stakeholders (sensitization / marketing)
Lead the recruitment process for the field agents in his/her community
Train the filed agents (SILC methodology, DCF, financial education, marketing bases)
Monitor, coach and provide feedback to FAs to develop their skill (PSP certification, PSP Network)
Ensure the quality of SILC groups through regular filed visits and spot checks
Organize and facilitate project events with local leaders, agents and groups as needed (mobilizes i.e. community leaders for sensitizations activities, structured interview, KII etc. FA for trainings / workshop etc., SILC groups i.e. sensitization, FGD etc.)
Ensure timeliness and accuracy of agent reporting
Review data collection forms and MIS reports and take action to improve project performance
Verify stipends due to agents
Certify and launch PSPs
Organize and oversee PSP networks.
Support conduct enumeration during project household registration/validation, surveys, and market assessments.
Residency:
Living in targeted community as a permanent resident—this is critical and must be confirmed independently; beware of candidates who claim they have "just moved back" and might be commuters
Well-known and respected by community members and leaders in the assigned area
Reputation for integrity
No criminal record or instances of disreputable behavior
Skills
Basic arithmetic skills (including percentage calculations)
Ability to read and understand the national language (used in guides and forms)
Ability to communicate in local language(s) of assigned area
Good community mobiliser and facilitator, with strong interpersonal and communication skills.
How to Apply
Interested and qualified candidates are to submit an Application containing an expression of interest and a detailed Resume as a single attachment on MS word document to: ng.recruitment_agriculture@crs.org using "FTF IAA SILC Field Agent Supervisor" as the subject of the mail.
Equal Employer Opportunity
"CRS is an equal –opportunity employer, does not discriminate based on race, color, religion and we are committed to gender sensitive programming and management'. etc.
Qualified women are strongly encouraged to apply"
Safeguarding
By applying to this job, I understand and acknowledge that CRS requires its staff to treat all people with dignity and respect and to actively prevent harassment, abuse, exploitation, and human trafficking. Further, I understand that if I am a successful candidate, I will be subject to a comprehensive background check, and my personal/professional references will be asked to evaluate my behaviors related to the above safeguarding-related topics.
Statement of Commitment to Protection:
''CRS' recruitment and selection procedures reflect our commitment to protecting children and vulnerable adults from abuse and exploitation''
However, if you have any feelings regarding the Catholic Relief Services, Please kindly drop A COMMENT below and we will respond to it as soon as possible.
BE SOCIAL BY SHARING THIS POST WITH OTHERS!
CONNECT WITH US: Like our Facebook Page, Follow Us On Twitter, AND also Subscribe to Our Feed. Stayed Blessed!
Tags: Catholic Relief Services, FTF IAA SILC Field Agent Supervisor