Calls for CcHUB Internship Programme application 2022/2023 | Eligible and Interested applicants should submit their application now before the closing date.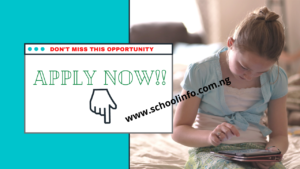 The CcHUB Graduate Internship Programme 2022 for young graduates (Nigeria and Kenya) application form, requirements, eligibility, application guidelines, application deadline, how to apply, closing date, and other opportunities links for Nigerians is published here on Schoolinfo.com.ng as well as on the official application portal/website.
Application Instruction:
Don't forget that the CcHUB Internship Programme application is totally free of charge.
Don't send anyone money for this opportunity.
Beware of Fraudsters!!!!
Subscribe to our notification list with your email to receive the Latest Opportunities Update.
Details of CcHUB Internship Programme.
The CcHUB Internship Programme is a 6-month paid immersive training programme for graduates looking to gain relevant first-hand professional experience, further improve their skills, and build expertise in their various fields.
For this 6-month programme, CcHUB is on the hunt for graduates with a keen interest in technology and a desire to transform the landscape of Africa as a continent. If you are tech-savvy, confident, driven and willing to roll up your sleeves to get work done, you are just who we are looking for!
Benefits
Learning & Fun
You'll get 6 months of growing and learning while having fun.
Mentorship
We offer personal career advisory and support sessions.
Soft-skill trainings
You'll learn essential skills to thrive in a 21st century workplace.
Forward Thinking
Interaction with industry leaders and forward-thinking professionals.
How it Works.
Select a track and kick-off your journey to becoming a CcHUBer
Select a Track
This is the first step to a world of possibilities and an exciting career path
Submit Application
We will love to know a bit more about our potential colleague! Submit your application and we will get to reviewing it
Group Assessment
We loved learning about you on paper! Now is the time to assess if you will be a good cultural and behavioural fit for our Company.
Unit Assessment
This will involve a task and an interview with your potential team. The goal here is to leave a lasting impression!
Acceptance
You are in! CcHub is so proud of you and can't wait to work with you. Fill out all the paperwork.
Onboarding
Welcome to Team CcHUB!
For More Information:
Visit the Official Webpage of the CcHUB Graduate Internship Programme 2022
However, if you have any feelings regarding the CcHUB Internship Programme, Please kindly drop A COMMENT below and we will respond to it as soon as possible.
BE SOCIAL BY SHARING THIS POST WITH OTHERS!
CONNECT WITH US: Like our Facebook Page, Follow Us On Twitter, AND also Subscribe to Our Feed. Stayed Blessed!
Tags: CcHUB Graduate Internship Programme 2022 for young graduates (Nigeria and Kenya), CcHUB Internship Programme