Calls for DAAD DIES University Leadership and Management Training Programme application 2022/2023 | Eligible and Interested applicants should submit their application now before the closing date.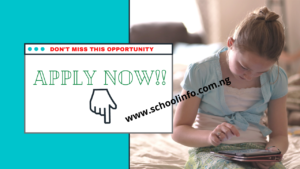 The DAAD application form, requirements, eligibility, application guidelines, application deadline, how to apply, closing date, and other opportunities links for Nigerians is published here on Schoolinfo.com.ng as well as on the official application portal/website.
Application Instruction:
Don't forget that the DAAD application is totally free of charge.
Don't send anyone money for this opportunity.
Beware of Fraudsters!!!!
Subscribe to our notification list with your email to receive the Latest Opportunities Update.
Details of DAAD DIES University Leadership and Management Training Programme.
Applications are invited for the DAAD DIES University Leadership and Management Training Programme 2022. DAAD and the Center of Lifelong Learning (C3L) at the University of Oldenburg in Germany are jointly organising the program in Oldenburg, enabling young managers at higher education institutions in developing countries to tackle successfully everyday challenges.
In order to do so, the programme brings together the topics Project Management, Strategic Management & Academic Leadership and Human Resource Management with individual and practice-oriented change projects of each participant.
UNILEAD focuses on three key areas:
Project Management: This includes courses on Methodology of Project Management and Financial Management in Projects.
Strategic Management & Academic Leadership: This includes courses of theoretical basics and practical tools for the Development and Implementation of Strategic Management and Acquisition of Competences in the area of Leadership.
Human Resource Management: This includes courses on Instruments of Human Resource Development, Conflict Management and Communication.
Funding
During the contact phases the participants will be guests of the University of Oldenburg. The following expenses will be covered:
Course costs UNILEAD approx. €5,500.
Travel costs: Flights to and from Germany (Economy class) and ground travel to and from Oldenburg (2 Class train). They kindly ask the participants to make their own travel arrangements – they will then be reimbursed in cash upon arrival in Oldenburg.
Accommodation (including breakfast) and some joint meals at the two contact phases in Germany.
Emergency health insurance during the contact phases.
Expected co-funding: Participants' home institutions are expected to contribute to the course costs by paying a one-time fee of €300. The fee will be deducted from the travel reimbursement in the first contact phase. In addition, local transportation in the participants' home countries, visa costs and possible additional per diems for the stay in Germany have to be covered by the participants and/or their home institution.
Eligibility
Applicants have been holding a university management position with managerial and personnel responsibilities no longer than 4 years in one of the following fields:

Managers of central university departments (Planning, Quality Management, Human Resources, Continuing Education; excluding academic units such as Deans, Vice Deans, Head of Department).
Task force managers for university reform projects.
Managers of staff development units or programmes.

Active and excellent English language skills (speaking and writing) are indispensable. Phone interviews will be organised with short listed candidates to guarantee the requested proficiency.
Applicants are university leaders preferably between 30 and 40 years.
Applicants hold at least a Master's degree.
The provision of international experience will be an asset.
Eligible Countries
Participants from higher education institutions of the following countries are eligible to apply:
South East Asia: Cambodia, Indonesia, Laos, Malaysia, Myanmar, Philippines, Thailand, and Vietnam.
Sub-Saharan Africa: Botswana, Burundi, Cameroon, Eswatini, Ethiopia, Gambia, Ghana, Kenya, Lesotho, Liberia, Malawi, Mauritius, Namibia, Nigeria, Rwanda, Sierra Leone, South Africa, South Sudan, Sudan, Tanzania, Uganda, Zambia, and Zimbabwe.
Latin America: Argentina, Belize, Bolivia, Colombia, Costa Rica, Cuba, Dominican Republic, Ecuador, El Salvador, Guatemala, Honduras, Mexico, Nicaragua, Panama, Paraguay, and Peru.
Middle East and Northern Africa: Algeria, Egypt, Iran, Jordan, Lebanon, Morocco, and Tunisia.
Application
The deadline for application is October 13, 2020, 09.00 am, Central European Summer Time.
For more information, visit DAAD.
However, if you have any feelings regarding the DAAD, Please kindly drop A COMMENT below and we will respond to it as soon as possible.
BE SOCIAL BY SHARING THIS POST WITH OTHERS!
CONNECT WITH US: Like our Facebook Page, Follow Us On Twitter, AND also Subscribe to Our Feed. Stayed Blessed!
Tags: DAAD DIES University Leadership and Management Training Programme, DAAD DIES University Leadership and Management Training Programme 2021/2022