Calls for Digital Rights and Inclusion Learning Lab application 2021/2022 | Eligible and Interested applicants should submit their application now before the closing date.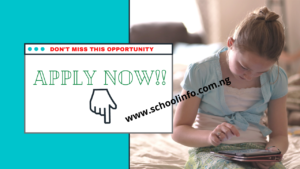 The Paradigm Initiative's Digital Rights and Inclusion Learning Lab (DRILL) Fellowship 2021 (Stipend available) application form, requirements, eligibility, application guidelines, application deadline, how to apply, closing date, and other opportunities links for Nigerians is published here on Schoolinfo.com.ng as well as on the official application portal/website.
Application Instruction:
Don't forget that the DRILL application is totally free of charge.
Don't send anyone money for this opportunity.
Beware of Fraudsters!!!!
Subscribe to our notification list with your email to receive the Latest Opportunities Update.
Details of Digital Rights and Inclusion Learning Lab.
Applications are open for the Paradigm Initiative's Digital Rights and Inclusion Learning Lab (DRILL) Fellowship 2021. Through DRILL, Paradigm Initiative seeks to host innovative learning around digital rights and inclusion in Africa, and serve as a space for enhanced capacity, practice and reflection aimed to involve and connect different stakeholders and create dialogue amongst researchers, social innovators, policymakers and actors, the private sector, as well as civil society.
Paradigm Initiative (PIN) is a social enterprise that builds ICT-enabled support systems and advocates for digital rights in order to improve the livelihoods of under-served young Africans. Their digital inclusion programs include a digital readiness school for young people living in under-served communities (LIFE) and a software engineering school targeting high potential young Nigerians (Dufuna).
Fellows' Responsibilities
Applicants will be required to briefly discuss their intended focus for the fellowship period during the application process. Paradigm Initiative will expect to receive a cutting edge project proposal that will benefit from the exposure to the African digital rights and inclusion community. If your proposal is big, innovative and addressing a real issue in the digital ecosystem, they look forward to reviewing your submission. The successful fellows will be expected to work full time within any of the PIN offices.
The successful fellows will propose and work on an innovative project which will be completed during the fellowship (i.e cutting edge research/technology-centric project that seeks to address digital rights or digital inclusion issues in Africa)
The fellows will be expected to host monthly ecosystem/sector meetings with the PIN Team to engage the ecosystem on critical issues arising or existing.
The fellows will conduct biweekly presentations and prepare content to share with the PIN team on their project and to feature a monthly DRILL podcast to be recorded with the PIN Executive Director.
Each Fellow will have the opportunity to host a Digital Rights and Inclusion Forum (DRIF) – Digital Rights and Inclusion Learning Lab in April 2021.
The last month of the fellowship will feature a final meeting, final presentation and final podcasts from the selected fellows.
There will be a closing event with PIN's leadership team to reflect on what has been achieved in the fellowship month period and to award the Fellow with certification for completion.
Benefits
PIN will provide a monthly stipend to the selected fellows which will cover participation in the Fellowship.
PIN will provide a research project grant to support an approved project and budget.
PIN will cover costs associated with activities at the Digital Rights and Inclusion Lab and provide an opportunity to be embedded within our team, access to the ecosystem and feedback on projects throughout the duration of the fellowship.
A possible opportunity to travel to an international platform to showcase the finished project.
Eligibility
Open to individuals living within the following countries – Cameroon, Ghana, Kenya, Nigeria, Zambia and Zimbabwe.
Potential candidates will be expected to have had a minimum of 5 years' experience as technology or social innovators, researchers, policy experts, and/or entrepreneurs.
Fellows must have a relevant postgraduate qualification.
Be exceptional individuals who will bring new learnings and innovations as well as gain exposure to the digital ecosystem.
Application
This call for applications is open from October 6, 2020 until October 30, 2020. The selection process will be finalised in November 2020 with the fellow of the Digital Rights and Inclusion Lab expected to resume on March 1, 2021.
For more information, visit DRILL Fellowship.
However, if you have any feelings regarding the DRILL, Please kindly drop A COMMENT below and we will respond to it as soon as possible.
BE SOCIAL BY SHARING THIS POST WITH OTHERS!
CONNECT WITH US: Like our Facebook Page, Follow Us On Twitter, AND also Subscribe to Our Feed. Stayed Blessed!
Tags: Digital Rights and Inclusion Learning Lab, DRILL Fellowship, DRILL Fellowship 2021/2022