Calls for Váradi application 2022/2023 | Eligible and Interested applicants should submit their application now before the closing date.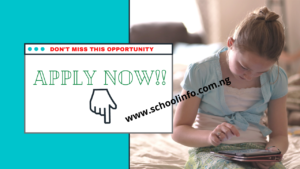 The Váradi Scholarships 2022 to study at the University of London application form, requirements, eligibility, application guidelines, application deadline, how to apply, closing date, and other opportunities links for Nigerians is published here on Schoolinfo.com.ng as well as on the official application portal/website.
Application Instruction:
Don't forget that the Váradi application is totally free of charge.
Don't send anyone money for this opportunity.
Beware of Fraudsters!!!!
Subscribe to our notification list with your email to receive the Latest Opportunities Update.
Details of Váradi
Applications for the Váradi Scholarships 2022 to study at the University of London are now open.
The University of London alumnus József Váradi has donated over £1 million to the University, to provide scholarships to support up to 100 distance and flexible learning students over the next ten years.
The Váradi Scholarships will continue the University of London's founding mission of opening access to education and connecting worlds.
The Váradi scholarships will be available to all new students, from anywhere in the world, studying any of University of London's programmes.
József completed an LLM with the University via distance learning in 2014, specializing in International Business Law. He is the CEO and co-founder of Wizz Air. Thanks to the generosity of alumni like József, the University can break down barriers to education and provide support to some of their most deserving students, allowing them to improve their lives and the lives of others in their communities.
Scholarship
The Váradi scholarships cover all University of London tuition fees. The scholarships do not cover any fees or costs (such as computers and additional study materials or Teaching Centre fees) not directly payable to the University of London.
Eligibility
The scholarship is open to:
Any student who is a permanent resident in Central and Eastern Europe. Including Albania, Bosnia, Bulgaria, Croatia, Czech Republic, Estonia, Hungary, Kosovo, Latvia, Lithuania, Moldova, Montenegro, North Macedonia, Poland, Romania, Serbia, Slovak Republic, Slovenia and Ukraine.
Any student studying one of the following programmes:

BSc Computer Science
BSc Psychology
BSc Business Administration
Global MBA
Master of Laws (LLM)
MSc Data Science
MSc Supply Chain Management and Global Logistics

You are encouraged to apply for a scholarship at the same time as submitting your programme application. Please note that your eligibility will need to be confirmed before your scholarship application is considered.
You will need to demonstrate within the application that without the scholarship you would not be able to undertake the programme.
Application
Download and complete the scholarship application form.
Submit an application for your chosen degree via its course page.
Please ensure you upload your completed scholarship application form under the 'Scholarship Form' section.
Pay the appropriate online application fee for your programme.
You must submit a fully completed course application, as without this they cannot consider a scholarship application.
If you have applied for a programme previously but did not register and wish to be considered for this scholarship, please submit a completed scholarship application form here as you may not need to reapply for your course.
For more information, visit Váradi Scholarships.
However, if you have any feelings regarding the Váradi, Please kindly drop A COMMENT below and we will respond to it as soon as possible.
What's your take in this post? Please don't keep it to yourself;
BE SOCIAL BY SHARING THIS POST WITH OTHERS!
CONNECT WITH US: Like our Facebook Page, Follow Us On Twitter, AND also Subscribe to Our Feed. Stayed Blessed!
Tags: Applications for the Váradi Scholarships 2022, Váradi application 2022/2023, Váradi Scholarships